Strengthening institutions to end violence against women in Syria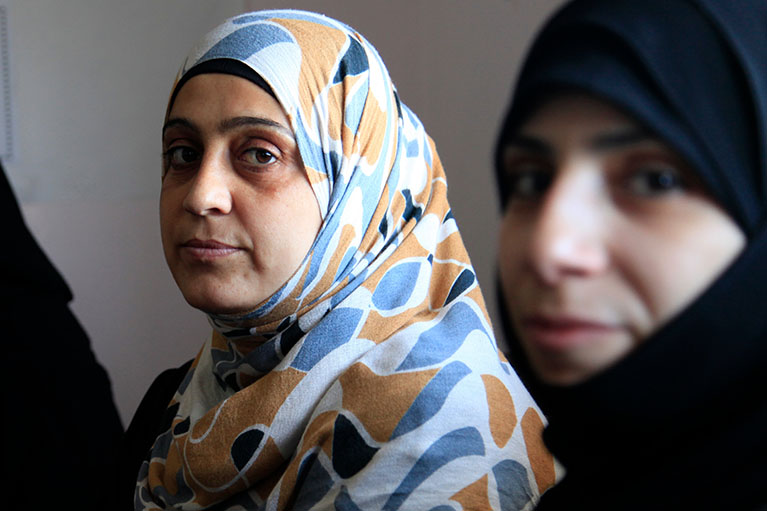 In the midst of war, issues around sexual and gender-based violence (SGBV) are often set aside as secondary to other humanitarian and security needs. But as demonstrated by the war in Syria, SGBV does not subside during conflict—it escalates, leaving drastic repercussions. To end this cycle of violence, international organizations need to work with local grassroots organizations through a multitiered approach. By facilitating sustainable local partnerships, international organizations can help victims of SGBV and other under-resourced groups access critical resources to survive.
In Syria, fighters are using rape and sexual slavery as weapons of war, as is so often the case in violent conflict. The physical, psychological, and financial strain of the war has also led to a dramatic increase in domestic violence and child marriage. Survivors may receive treatment for their physical ailments, but their ongoing trauma and psychological wounds need attention just as urgently. Unfortunately, this type of care is in short supply, particularly in harder-to-reach communities, such as outside of major cities in southern Turkey or in besieged areas in Syria. While international aid groups and NGOs focus on more obvious medical concerns, SGBV survivors are constrained geographically by the conflict and often endure alone.
In response to this dire need, many women-led grassroots initiatives have sprung up to address SGBV at the community level, but these initiatives have extremely limited financial and technical resources to provide support to a growing number of survivors. Many of the organizations are run almost entirely by volunteers. As such, there is an increasing need to get financial and technical support to these initiatives so that they can continue this important work. The 16 Days of Activism against Gender-Based Violence Campaign acknowledges this reality. During this year's campaign, UN Women is focusing on the need for sustainable financing to end violence against women and girls.
 
Implementing a multitiered approach to meet community needs
While the need for support is clear, the security situation in Syria has complicated the means through which it can be delivered. Most international and national-level civil society organizations have left Syria to operate in neighboring countries and refugee settlements, eliminating pass-through organizations that typically support small grassroots programming. While many individuals have also sought refuge in nearby countries, many more remain behind with no support. The majority of civilians still inside Syria remain there due to a lack of financial means. They are among the poorest individuals, which makes them particularly vulnerable. 
Recognizing this gap in services, IREX's Justice and Dignity for the Middle East and North Africa program partnered with another international organization to deliver support to these forgotten communities and the underfunded groups that are trying to serve them. IREX and its partner configured a multitiered funding mechanism to get financial and technical resources to community-led grassroots initiatives to Syria and the SGBV survivors these groups serve.
Rather than funding the initiatives directly, IREX and its partner provided financial and technical support to two Syrian-led organizations, both located outside of Syria, to mentor and fund four grassroots initiatives combatting SGBV inside the country. The aim of funneling funds through the Syrian-led organizations was to facilitate a supportive relationship that will continue when the funding ends.  
Supporting grassroots initiatives to build local capacity
The first Syrian-led organization, Barnamaj,* is in Lebanon and provides funding, training, and mentoring to initiatives in regime-controlled areas inside Syria. With IREX's help, Barnamaj provided this support to two initiatives focused on SGBV issues:
Raya,* the first initiative, works to improve the living circumstances of minors in care centers and prisons in Aleppo, Syria. Care centers are facilities where minors are kept when their parents are incarcerated. The educational and health services in these centers are extremely limited and living conditions are poor. With the funding, training, and mentorship from Barnamaj, Raya restored educational courses for boys to catch up on topics they missed because of the war to prepare them for the beginning of the school year. The second component of the program focused on improving the physical environment of the adolescent girls' center, which was dark and depressing. The third component focused on delivering health care and medicine to boys in the centers who were underdeveloped and required medical attention.
The second initiative, Tafulia,* implemented a program in Damascus, Syria, focused on preventing sexual abuse and assault of children and reintegrating child survivors into society. The initiative brought together a group of 25 volunteers with prior knowledge of psychology and trained them on medical first aid, awareness raising, and how to provide psychological support to children. The trainings taught the volunteers how to prevent and address child abuse, raise the self-esteem of child survivors, and educate parents on how to break the cycle of sexual abuse.
While the funding and technical support from Justice & Dignity and its partner allowed these programs to be implemented, it also strengthened relationships between Barnamaj and the initiatives they supported. Barnamaj continues to work with these two initiatives as part of its commitment to ensure Raya and Tafulia can continue their work and eventually become established community-based organizations.
The second Syrian-led organization, Munathama,* located in southern Turkey, provided funding and technical assistance in the form of project management and implementation oversight and mentoring for groups supporting women survivors of GBV and SGBV and former detainees.
The first initiative that Munathama supported, Itlaq,* worked with female survivors of SGBV in Tel Abyad, Syria, to empower them to advocate for their rights and to reintegrate into society. As part of this effort, Itlaq responded to individual cases of violence against women (VAW), providing individual or group support as needed. Itlaq also worked on raising awareness of VAW by launching a website to promote women's rights and the proper documentation of VAW to educate community members. To support this part of the initiative, Itlaq held a workshop on VAW and documentation so other women in the community could help advocate for women survivors.
The second initiative, Damaj,* focused on raising awareness among former female detainees and their families in Aleppo about their rights and reintegrating them into society. Combined with financial support and mentorship, Damaj held educational workshops for these former detainees and their families on international laws and women's rights. This training also gave the former detainees and their families the legal knowledge necessary to fully function as citizens in their communities. Damaj also provided much-needed psychological support to the former detainees dealing with significant trauma.
The relationships that formed between Munathama, Itlaq, and Damaj will ensure the initiatives can continue their work beyond the end of their IREX-funded programs and develop the capacity to become established community-based organizations. Itlaq and Damaj can look to Munathama for support and mentorship as they continue to address community needs in regards to SGBV.
Building relationships to foster sustainability
In keeping with UN Women's focus on sustainability, IREX and its partner found that the multi-tiered approach to funding and support was successful because it made these initiatives sustainable through the partnerships. The approach helped strengthen the relationships between the Syrian-led organizations and the grassroots initiatives, ensuring the initiatives are supported and their work is sustained when the funding ends. 
These women-led, grassroots initiatives continue to fight SGBV and protect victims amid ongoing crisis and war. It is critical that international funding and technical support find their way to these groups to ensure these initiatives are sustained. IREX's multi-tiered approach to grant making and technical support was necessary and successful in delivering sustainable support where it was most needed. Without it, these groups may not have been reached or funded, the relationships between them may not have been fostered, and their future sustainability would be in jeopardy.
*Name has been changed for security reasons.
The Justice & Dignity for the Middle East & North Africa program employs a collaborative approach to respond to the needs of activists and civil society organizations working in transitional environments across the region.