Rethinking the Ebola response: How Liberians helped themselves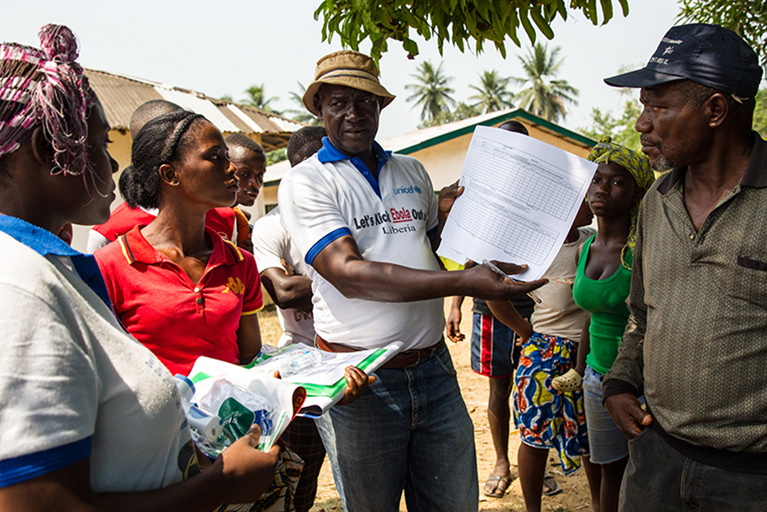 The actions of Liberian citizen groups demonstrate the critical role of civil society in a crisis.
This article was originally published by Devex.
The unprecedented crisis caused by the spread of Ebola across West Africa has been well documented, but the crucial aspect of how Liberian citizens contributed to the relief effort has gone largely overlooked.
It is widely believed that Ebola was curtailed in Liberia only after the United States sent in a response unit of over 3,000 Marines. In reality, while the global response lagged, Liberian citizens took the reins and drove the recovery in their own communities.
With a chain of 1,000 community leaders in 13 counties, [IREX] identified several critical gaps in the fight against Ebola. We ask [you] to... assist us in our planning process.

President Ellen Johnson Sirleaf
By the time the first U.S. troops landed in Monrovia in October, the ground work of coordinating health messaging, dispelling rumors, and keeping the peace in a tense environment had already been laid by citizens.
Liberians' community response to Ebola has mostly been mentioned in passing, tacked on to praise of the international response and efforts of the Liberian government. Beyond shortchanging the efforts of citizens putting their lives on the line, the development community is missing crucial insight into how the crisis was quelled.
The fight against Ebola tested a relatively young, but rapidly professionalizing, civil society. Dissatisfied with the government's response, citizens and local groups took charge, bringing legitimacy to messages from the World Health Organization and the government of Liberia, while addressing community issues and gathering information to feed back to health workers in Monrovia.