It's time to talk about the mental health pandemic: An interview with youth advisory council members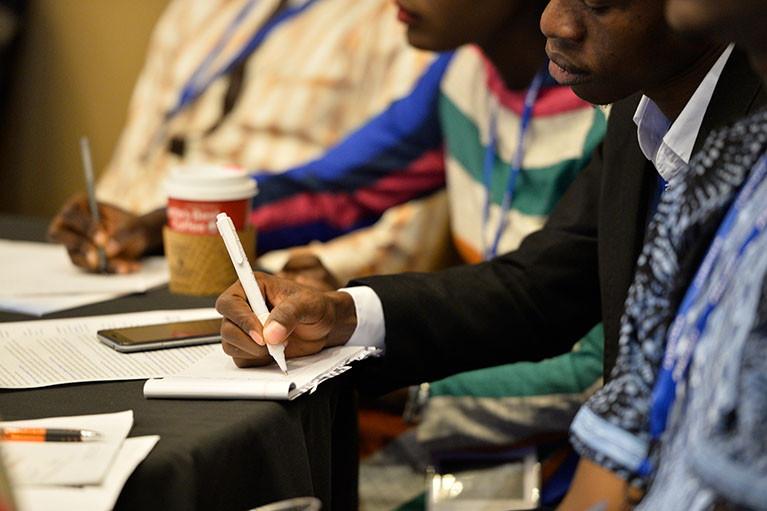 In the USAID-funded Youth Excel program, we support young leaders who are working to strengthen their programs and advocate for policies that meet their needs. During the past year, we've heard from these young leaders that mental health is one of the most prevalent challenges for youth today. For more insights, we interviewed two of Youth Excel's Global Youth Advisory Council members: Dumiso Gatsha, founder of Success Capital, and Amina Soulimani, an anthropologist and a member of the Afrika Youth Movement.
According to a study published by the American Psychological Association, rates of youth mood disorders and suicides have increased significantly over the last decade. COVID-19 has also affected the mental health of millions of people as it continues to claim lives and inflict socioeconomic instability. Mental illness is especially prevalent in East Africa and southern Africa: 15 African countries are among the top 30 for suicide per 100,000 people.
In this region, mental health services often aren't considered a high priority. In Africa, there are only 0.9 mental health workers per 100,000 people. Many patients cannot afford treatment. The most frequent mental illnesses diagnosed in this region are depression, substance abuse, stress, and anxiety disorders. These challenges are associated with increased risk of poverty due to increased health expenses, compromised productivity, mental health stigma, loss of employment, and other factors.
To respond, Youth Excel launched a grant competition for local organizations to strengthen youth mental health and psychosocial support for marginalized or underserved youth in East Africa and southern Africa. We received more than 340 concept notes as of August 2021. This tremendous response validated the need for collaboration across sectors to address youth mental health.
Young leaders are perhaps best positioned to shed light on this global trend, and they are increasing efforts to support mental health among youth. Two of Youth Excel's Global Youth Advisory Council members, Dumiso Gatsha (they/them) and Amina Soulimani, shared their experiences with us. We've edited the following interview for length and clarity.
Addressing youth's mental health
IREX: In your field of work, what is being done to address youth mental health?
Gatsha: Before COVID-19, mental health services were never part of primary health care services for the majority of young people or the general public, although they have always been a key element in trans and gender-affirmative health. Since the pandemic, there has been an increase in efforts around mental health, particularly for vulnerable or marginalized groups such as girls, the LGBTI community, and disabled youth.
At an institutional level for Success Capital Organization, addressing youth mental health meant doing additional care work for aggravating circumstances. Our youth constituents were subject to various forms of abuse, stigma, and discrimination. We had limited funding and limited facilities for virtual or in-person mental health services, which meant additional care work and emergency support was required from our team. For me, at an individual level, it meant experiencing burnout and being diagnosed bipolar.
These developments, along with navigating the inequalities and uncertainty that preceded the pandemic, resulted in creating a post-trauma mental health toolkit developed by, for, and with young women and LGBTI youth in Botswana.
Soulimani: As a researcher, I try not to compartmentalize my emotions from my research. I believe that there is no such thing as "objectivity" and that we must look at and navigate through the world through our intuition. To be "well" or "unwell" in one's body means that you are acting differently in the world, and that is worth speaking about. We are affected by the violence that is inflicted on others, and we cannot ignore it or not speak of it.
In research methodologies, and when rethinking how we approach research, we are seeing a shift. There is a new consideration for centering the emotions we feel when doing on-the-ground fieldwork or research. Previously, emotions have been pushed to the side and not written about. This did not necessarily lead to truthful accounts of what is happening on the ground. Every space holds emotions, and there is no such thing as "neutrality." Today, we can no longer afford to pretend that we can separate what one feels and what one experiences with their body. In brief, we need to bring our entire bodies to what we experience in order to make sense of our research and empathize with the communities we work with.
IREX: Have you worked on any projects that addressed youth mental health?
Gatsha: Yes. We created a project with the support of the Starling Collective, under Giving Tuesday. The project created a safe space and participatory process for cocreation and for curating tools based on longstanding psychology techniques. We piloted the project with young people. It allowed us to unravel, unlearn, and relearn our individual and collective strengths in a manner that is trauma-informed and aspirational.
Challenges and recommendations
IREX: What are the key needs for youth mental health and psychosocial support right now? What are your recommendations for the global development community?
Gatsha: Young people do not just need mental health as part of primary health service packages. Mental health is central to universal health coverage as a component of service delivery and accountability. Governments must spend more than the global estimate of 3%, or 1% African average, of public health money allocated to mental health. Thus, I recommend that mental health spending should increase to a minimum of 15% of health budgets. This should allow for more care in health services, moving away from merely looking at physical symptoms and adopting a more holistic approach whether in family planning, disease screenings, or annual checkups.
More importantly, I think we should seek to affirm that mental health should be central to belonging and becoming. That means that positive mental health should reflect one's aspirations and not just be about being resilient, surviving trauma, and overcoming other extenuating circumstances. Mental health should be viewed as part of the structure and system, and not the responsibility of individuals. The ability to pay bills or have medical aid should not be a precondition for seeking or securing mental health services. Mental health should be redefined, packaged, and understood as a structural and community issue for improved service delivery and outcomes.
Soulimani: We need safe spaces for young people to articulate what they are feeling about the toxicity of their educational institutions, and we need to address mental health at work. But we also need to address it with family. We are often encouraged to sweep it under the rug, to sacrifice our own well-being in the name of "culture." I believe it is time to begin conversations about well-being with the question "What makes you uncomfortable?" We should empower youth to speak up for themselves in the spaces in which they feel unsafe and learn to protect not only their bodies but also their opinions and ways of being in the world.
Youth Excel will support youth-led and youth-serving organizations to address local development issues related to protecting mental health and offering psychosocial support to young people in Eastern Africa. Youth Excel welcomes partnerships (PDF, 8.1 MB) with governments, communities, and other stakeholders to equip local organizations with the resources to support their priorities. For more information, contact Youth Excel at excelyouth@irex.org.