Four ways to help U. S. public libraries to build trust and bring people together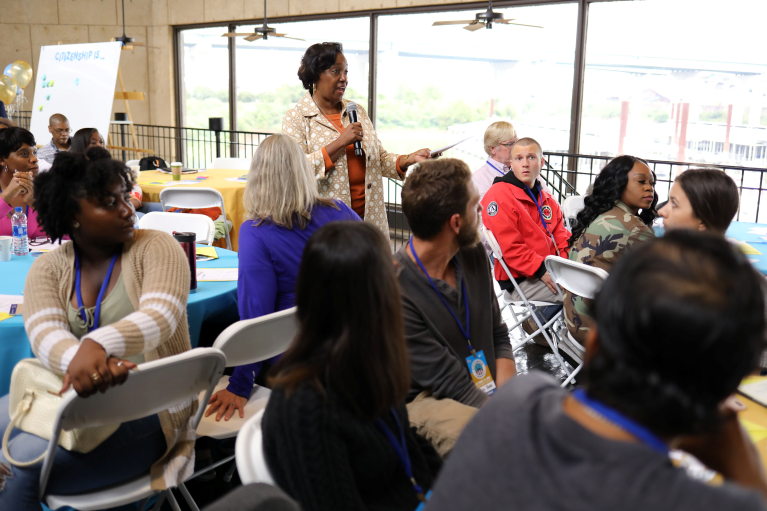 IREX, funded by More Perfect, conducted a landscape analysis to understand how U.S. public libraries can reduce distrust and division by promoting bridgebuilding community activities designed to build understanding, empathy, and trust across divides and increase meaningful community and civic engagement.   
This landscape analysis was essential because there is an increasing need for people to be together and to understand each other. The United States is increasingly divided, with nearly 80% of adults now having few or no friends in a different political party during the 2020 presidential election year. Our trust in the government, other institutions, and each other is decreasing.
During the analysis, we:
spoke with diverse public libraries, library associations, and bridging organizations;

analyzed existing bridgebuilding initiatives, tools, models, approaches, and programs;

analyzed challenges and gaps in resources that public libraries need to implement these activities;

identified library needs related to effective tools to measure impact.
Through our analysis, we learned that by their very nature, most or all public library activities already increase civic engagement, build social trust, and strengthen communities, although libraries do not necessarily frame them in that way. We also found that these activities may either implicitly or explicitly bridge groups. Therefore, to amplify the bridging work of public libraries, IREX believes that it's essential to communicate about how public libraries increase civic engagement, build social trust, and strengthen communities. Amplifying this work can also identify gaps and needs that, when met, can further weave together the social fabric of communities.
Everybody is aware that we are very divided, that there is a lot of distrust and polarization. One thing I've noticed is even the people who I see as very, very extreme and polarizing figures will point to the problem that we are very polarized. I think a lot of us wonder, what do we do about it? A lot of different groups and projects are starting to emerge and we're trying to learn from each other, and we're asking, 'Do you have the right answer? What are you doing over there?...' We're all kind of in that space.

- Spokane Public Library
Based on what we learned, IREX partnered with WebJunction to create a Bridgebuilding Resource Hub that provides libraries free and open access to:
B

ridgebuilding resources

,

Case studies detailing how public libraries are implementing bridgebuilding

initiatives

, and

Needs assessment and measurement tools to help measure the effectiveness of bridgebuilding

programs

.
Our analysis also yielded several recommendations for donors, stakeholders, and public libraries to strengthen and expand public libraries' bridging work, including:
1. Donors should provide targeted funding to support library bridgebuilding work
This could include funding a national bridging campaign that would enable public libraries to test and scale bridging activities, supporting training for librarians to help prepare them to lead these activities, and offering funding for bridgebuilding organizations to engage with public libraries and adapt their existing tools and approaches to public libraries. Donors should also include support for measurement as part of the bridging initiatives and programs they fund.
2. Donors should support the safety and security of public libraries and librarians
Libraries are experiencing a myriad of challenges, including threats to their physical safety, and conducting bridging activities on sensitive topics can be stressful and emotionally fraught. Donors should provide funding aimed at mitigating and reducing potential harm to public libraries and librarians, including supporting existing emergency resources. The American Library Association (ALA) and the Public Library Association (who provided input into IREX's initiative) recommended The Merritt Fund, The Freedom to Read Foundation, and the ALA office for Intellectual Freedom as critical resources that help libraries manage attacks on intellectual freedom and support staff wellbeing. Donors should also create an emergency funding pool to help libraries respond to additional threats, heal community crises of trust, and adapt quickly to provide services and resources for emerging needs and opportunities.
3. 

Public libraries and library associations should form a learning group (i.e., community of practice) focused on bridging activities
A community of practice would provide opportunities for libraries to increase their awareness of existing knowledge and tools, develop a shared understanding of current challenges, define concrete goals, share experiences with using neutral language to address difficult topics, learn from each other's experiences piloting experimental approaches, and foster peer learning and support for one another. Above all, it would allow libraries to come together to develop a shared understanding of the crucial role libraries play in increasing civic engagement, building social trust, and strengthening communities.
4. Public libraries should increase their use of assessments and evaluations

 to create more effective programming and address community needs
We found that public libraries are often not aware of methods for identifying community needs related to healing social divisions. Without data about their communities' needs, it is difficult for libraries to precisely define the problems they are trying to address. Without a clear articulation of these problems, libraries' priorities may not be in sync with community priorities.  
Libraries should consider updating current community needs assessments to ensure they collect data relevant to bridgebuilding activities. For example, Memphis Public Libraries now captures data on the percentage of patrons who make new acquaintances while visiting the public library or participating in a library program.
We also found that libraries perceive that measuring the impact of bridging activities is difficult and beyond their current resources and capabilities. Libraries can also explore the practical resources for measurement that already exist. Donors can support this effort by providing additional core support to libraries so that more staff time can be used to employ assessments and evaluations more consistently.
Reflecting on closing down divides, or helping with understanding, I really like the idea that libraries are a place for everyone, and the ideological differences shouldn't matter in terms of what our programming offers and what we try to accomplish here.​

It's getting the people into the room, figuring out how to reach audiences, because it's a leap of faith, not only for the people who are volunteering, but also for people to come do a reading, because you're all being very vulnerable. You're showing: 'I'm completely ignorant about this identity that you identify as.' And so, it takes an act of bravery.

- Daniel Boone Regional Library
Americans perceive that their country is more divided than usual, and are worried about what can be done. Public libraries offer one extremely promising solution. Libraries are already doing the hard work of bringing people together and facilitating challenging and important conversations. They have the potential to be an even more powerful healing force in U.S. society with the support of funding that can address the size and complexity of their challenges, improved safety and security, and increased opportunities for learning and strengthening ties with their communities. These steps will help ensure that libraries can build trust and bring people together.