Four takeaways from a panel on Uzbekistan's reforms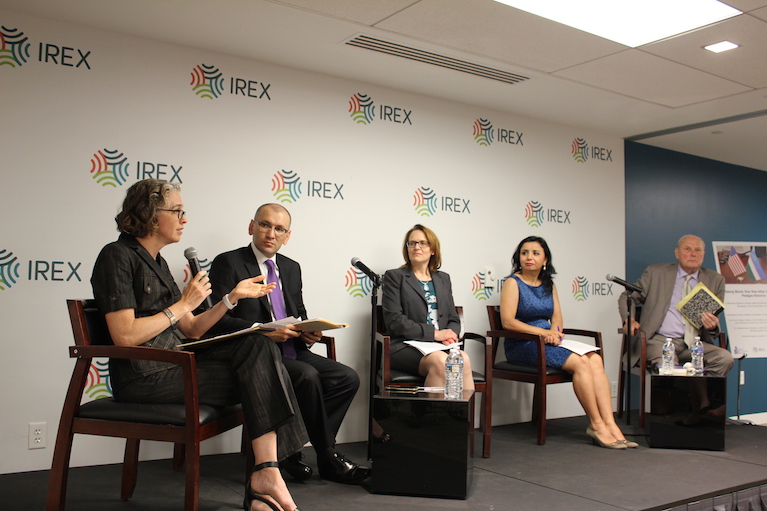 As Central Asia's most populous country and geographic epicenter, Uzbekistan is the current economic and political trailblazer for the region. In May 2019, IREX hosted the event "Taking Stock: One Year after Uzbekistan Pledges Reforms," a panel discussion assessing Uzbekistan's recent commitment to economic growth and advancing new opportunities for Uzbeks. The panel shed light on the strong relationship between the United States and Uzbekistan, the Uzbek Government's commitment to social and economic change, the role Uzbek youth and media have in cultivating civil society, and priorities for future reforms.
Since his election in late 2016, Uzbek President Shavkat Mirziyoyev has been introducing widespread reforms, which are ushering in changes to Central Asia's most populous country. Uzbekistan's reforms seek to achieve further U.S.–Uzbek cooperation, new international activities and diplomatic efforts, and reforms in the country's economic and media sectors. His visit to the White House in May 2018 provided an opportunity for Uzbekistan and the United States to recognize the mutual commitment to support reforms, develop cooperation between the countries, and pave the way for regional progress.
One year later, a panel of experts, organized by IREX, U.S. Agency for Global Media, and Central Asia–Caucasus Institute, gathered at IREX to take stock of Uzbekistan's pledges to conduct reforms.
The panel was headlined by Javlon Vakhabov, Uzbek ambassador to the United States, and Lisa Curtis, deputy assistant to the president and National Security Council senior director for South and Central Asia. Speakers also included Navbahor Imamova, journalist for Voice of America Uzbek Service and Frederick Starr, chairman of Central Asia–Caucasus Institute & Silk Road Studies Program.
 
Here are four key themes from the conversation.
Curtis praised Uzbekistan's efforts to open its borders, forge constructive regional relationships, and take steps to improve religious freedom.
For example, Uzbeks participated in the United States Department of State's Ministerial on International Religious Freedom in July 2018. In addition, Fortune 500 companies are strengthening trade ties with Uzbekistan in response to the government's steps to improve policies.
Curtis provided clear indications that the United States seeks opportunities for further cooperation with Uzbekistan. Highlighting the importance of reforms in the entire region, Curtis stated, "The stronger the Central Asia region, the stronger each state will be individually."
2. The Government of Uzbekistan has acknowledged more needs to be done even given the rapid pace of reforms
Current reforms in Uzbekistan center on a commitment to rule of law, strengthening of social policy, and conducting a good neighbor policy in the region, Ambassador Vakhabov shared. He recognized that the rapid pace of these reforms is not enough and that more needs to be done, particularly in the area of foreign investment. 
Ambassador Vakhabov detailed how the Uzbek government is encouraging foreign investments by improving Uzbekistan's impression and status in internationally recognized human rights reporting. In 2018, Uzbekistan made progress after its removal from the U.S. State Department's List of Countries of Particular Concern for International Religious Freedom Rights in addition to the removal of Uzbek-made cotton from the U.S. Department of Labor's List of Goods Produced by Child Labor or Forced Labor.
Ambassador Vakhabov described the Uzbek government's commitment to religious freedom through implementation of new legislation and detailed plans to increase tourism in the country through the process of facilitating easily accessible electronic tourist visas.
He wrote about the panel on Twitter, "Current reforms… are all comprehensive and essential, the path to implementation will not be easy, but US strongly supports them."
3. Uzbekistan's media and youth have a crucial role to play in reforms
Uzbekistan's media and youth play a critical role in holding the government accountable to its pledged reforms, but the sectors still face challenges. Native Uzbek journalist Navbahor Imamova acknowledged ongoing struggles in the country.
For example, the Uzbek government continues to block citizen access to the U.S. Agency for Global Media's Radio Free Europe/Radio Liberty (RFE/RL) Uzbekistan website domain. The RFE/RL webpage has been blocked from an earlier crackdown on independent news reporting from Uzbekistan's previous administration.
Imamova also noted the importance of the growing youth population in the country and the government's responsibility to meet youth's expectations, particularly when it comes to access to quality education. Uzbekistan is a young country with more than half of its population under 30, and young people are the driving force behind reforms.
Despite challenges, Imamova remains hopeful. She recognized how most young Uzbeks support President Mirziyoyev and how the president can use this momentum as a driving force for national reforms. People can now openly discuss difficult topics in Uzbek society, and journalists are taking the lead by working to provide solid analysis and content.
"They have hope, believe in the Uzbek dream, and know their future is in Uzbekistan," said Imamova.
4. Future priorities require the president to broadly empower civil society
Each panelist provided a unique perspective on future priorities for reforms in Uzbekistan.
Ambassador Vakhabov outlined the country's priorities of increasing the capability of its public servants and preparing the large youth population for future employment.
Starr suggested prioritizing quality investments, improving local administration responsiveness, and forming regional strategies.
Curtis proposed creating more academic exchanges between Uzbekistan and other nations. She also proposed focusing on the nitty-gritty levels of economic reforms, such as conducting research on best methods for attracting international investors.
Frank assessments, including from the Uzbek ambassador himself, grounded the discussion. While the panelists agreed future reforms are necessary, there is a renewed sense of hope for Uzbekistan and the region.
In her remarks, IREX President and CEO Kristin Lord emphasized the hope for renewed commitments and willingness from Uzbekistan and the international community to broaden education, youth development, and government cooperation in Uzbekistan. Lord accentuated IREX's commitment to these aims, and described how "IREX has a very proud history of supporting the people of Uzbekistan."
The "Taking Stock: One Year after Uzbekistan Pledges Reforms" panel took place May 30, 2019, at IREX's headquarters in Washington, DC.