The Impact Fellowships Summit
About         Register         Get Involved         Agenda         Partner         Resources         Contact Us         Research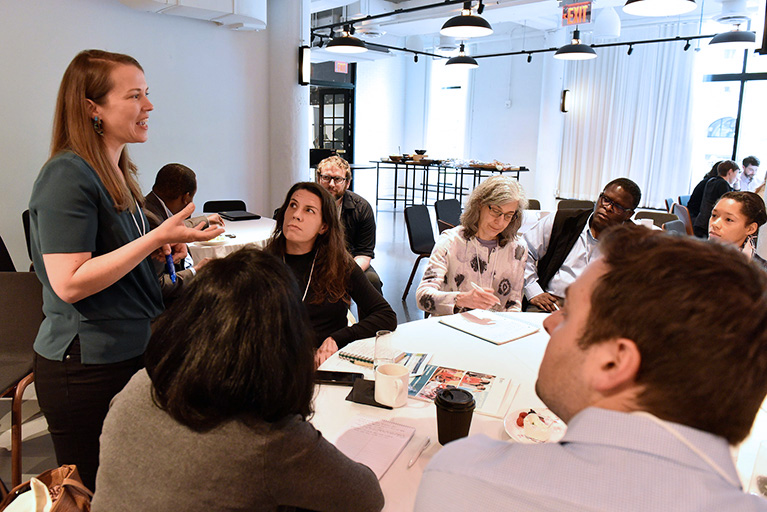 We are now accepting proposals for sessions. Registration for the summit will open on February 1st!
The Impact Fellowships Summit is a forum for leaders and managers of fellowship programs that support leaders to drive positive change in communities. Participants learn, share, and network to improve the quality of fellowship programs.
Globally, 21st-century leaders face political, environmental, technological, and social change. If these leaders are to succeed, the fellowship programs that prepare them must respond to this change, and, continue to learn, adapt, and incorporate approaches to ensure diversity, equity, and inclusion, and positive change within communities
We are planning for a hybrid Impact Fellowships Summit the week of April 24th, 2023.  The summit will be All About Alumni and focus on two tracks - Sustaining Equitable Networks and Getting to Positive Change, with a special feature on the results of the Fellowship Alumni Network Study funded by the W.K. Kellogg Foundation. In the meantime, please join our Impact Fellowships Givitas Community, a virtual collaboration platform to assist your fellowships. The platform provides a forum to ask for and offer help, advice, connections, and introductions to all who participate in the IFS community. 
It is free and easy to sign up and use! You can watch a tutorial on how to use Givitas and you can contact  support@givitas.com for further assistance with registering if needed.
Check back here periodically for more updates from IFS and make sure to access our resource page for links to tools, resources, and recordings of past IFS summit or webinar sessions.
What Is an Impact Fellowship?
Impact fellowships are programs that support emerging and experienced leaders to increase their effectiveness as changemakers. Impact fellowships build participants' confidence, enhance their abilities, increase their access to opportunities, and strengthen their networks.
Whether the participant is the founder of a community-based organization in Wisconsin, a primary school teacher in Uganda, or a university student in Pakistan, fellowship program participants are selected for these opportunities because they have demonstrated the passion and potential to bring about positive change for their institutions and communities.
History of the Impact Fellowships Summit
Founded in 2016 by Atlas Corps, ProInspire, and Public Allies, the Impact Fellowships Summit fostered an inclusive learning and sharing community for individuals who work on social impact fellowship programs, identified and acted on opportunities for collective action, and facilitated ongoing collaboration and support among community members.
The first two years of the summit successfully built and tested the model, creating an intimate, valuable space for the community to assemble for learning and sharing.
In 2018, building on the great work of the founding organizations, IREX took on the convening role for the summit. IREX brings a unique perspective as an organization that has managed fellowship programs with participants from over 100 countries and promoted leadership development for over 50 years.
In April 2019, IREX convened its first Impact Fellowships Summit around the theme Dynamic Leadership for a Changing World. Over two days, 128 fellowship practitioners representing 86 organizations attended to share, learn, and network. In October 2020, 180 practitioners representing more than 110 organizations gathered virtually over three days to share, learn, and discuss Diverse and Equitable Leadership for a Changing World. And in November 2021, we focused on going Beyond Fellowship Adaptation: Towards Sustained, Inclusive, and Systemic Impact as we grappled with the ongoing pandemic and how to navigate a safe return to in-person or hybrid programming.
IREX looks forward to continuing to leverage its expertise to evolve the structure and content of the summit and push the boundaries of a traditional learning conference, while maintaining the original spirit of collaboration, flexibility, and learning. We are planning for a hybrid summit this year with opportunities for both in-person and virtual engagement.  
We are now accepting proposals for sessions. Registration for the summit will open on February 1st!
Register to

attend the Impact Fellowships Summit!
Registration to attend the Impact Fellowships Summit will open on February 1st, 2023. Don't wait, please apply today to secure your seat at the Summit!  Space is limited (we're envisioning 150 total at the Summit in 2023), don't miss your chance to apply for this intimate (in size) yet powerful (in impact) event. 
Do you have an idea for a session that you would like to organize for the 2023 Impact Fellowships Summit? We encourage you to submit a proposal. We look forward to accepting a broad range of sessions from a diverse pool of applicants.
Proposals are due March 10, 2023. If you have questions, please email us at IFS@irex.org.