Impact Fellowships Summit
About         Register         Agenda         Location         Partner         Contact Us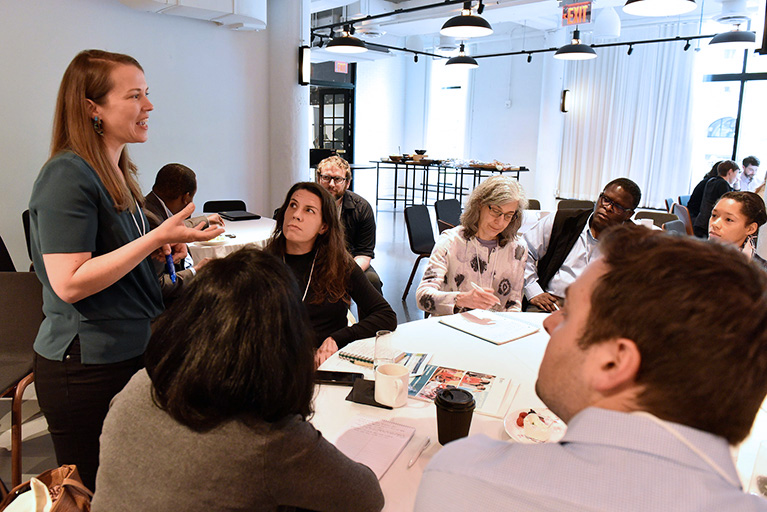 The Impact Fellowships Summit is a forum for leaders and managers of fellowship programs. The summit facilitates learning, sharing, and networking to support leaders and drive positive change in communities across the U.S. and around the globe.
Check back soon for information about the next Impact Fellowships Summit in 2020.
Highlights from 2019
I was surprised with how almost every single workshop I attended directly affected my work, with great tools and resources. And the connections I made were invaluable.An attendee from 2019
Participants from more than 80 organizations attended the summit. They represented a range of organizations, including small and large nonprofits, international NGOs, corporations, universities, and foundations, from 44 cities and 4 countries.
About the Organizers
IREX has designed and managed fellowship programs with participants from more than 100 countries and promoted leadership development for nearly 50 years. A learning organization, IREX values collaborating with partners to increase our impact.
In 2018, IREX took on leadership of the Impact Fellowships Summit, building on the great work of its founders Atlas Corps, ProInspire, and Public Allies. IREX works closely with a volunteer steering committee made up of members from organizations focused on social impact. We are grateful to the IFS Steering Committee for their invaluable guidance and support.
Our values
We are committed to fostering an environment grounded in four key values:
Inclusivity: We will promote diversity and inclusivity through summit outreach, session design and selection, and accessible spaces and content for all attendees, including persons with disabilities.
Community-driven: We will ensure that the structure and design of the summit reflect the priorities of attendees, that the majority of individual sessions are proposed and led by attendees, and that we collect feedback from attendees throughout the summit to ensure we are on the right track and can iterate as needed.
Creativity: We will support proposal ideas that encourage creative thinking and innovation. We will foster an interactive and collaborative space at the summit that challenges all of us to think outside the box, challenge assumptions, and take risks.

 

Outcome-focused: We will create opportunities for attendees to identify tangible solutions, try out relevant methodologies and tools, and connect with potential collaborators.