The Impact Fellowships Summit
About         Register         Agenda         Partner         Resources         Contact Us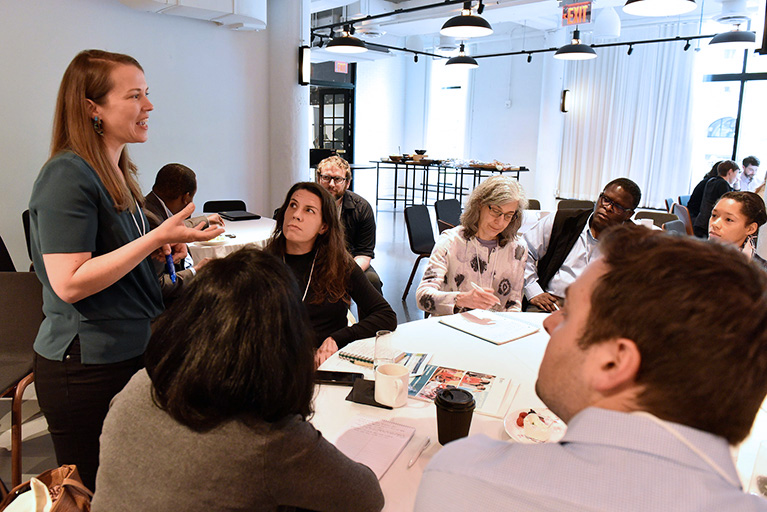 The Impact Fellowships Summit is a forum for leaders and managers of fellowship programs that support leaders to drive positive change in communities. Participants learn, share, and network to improve the quality of fellowship programs.
Globally, 21st century leaders face political, environmental, technological, and social change. If these leaders are to succeed, the fellowship programs that prepare them must respond to this change and also continue to learn, adapt, and incorporate approaches to ensure diversity, equity, and inclusion.
Building on the success of previous summits, IREX is excited to announce that the 2021 Impact Fellowships Summit will be held virtually November 16–18 featuring the theme Beyond Fellowship Adaptation: Towards Sustained, Inclusive, and Systematic Impact.
Register to Attend
The 2021 Impact Fellowships Summit
Countries are in various stages of emerging from a pandemic that exacerbated inequalities and disrupted our personal and professional lives for more than a year. The impact fellowships community, whose engagement models usually involve intensive immersive experiences, has had to rethink approaches. There is also a renewed global focus on racial and social justice and how to put diversity, equity, and inclusion at the forefront of the work.
This year, the Impact Fellowships Summit will explore what is next for leadership development practitioners and programs.
How do we take forward what we have learned from adaptations and pivots?
How do we incorporate diversity, equity, and inclusion practices that lead to sustained inclusive engagement in our networks?
How do the models, approaches, and practices we incorporate into our fellowships lead to systemic change and impact in the long term?
Join us at Impact Fellowships Summit 2021 to unpack these issues, learn from each other, and network with a collaborative community!
Through three technical tracks, three learning pathways, and the conference theme, the summit aims to:
Share ideas and innovative tools to improve the management and content of fellowship and leadership programs
Strengthen the community of fellowship program innovators while continuing to build knowledge and share expertise on topics of interest to fellowship and leadership programs
Promote the resilience and professional growth of attending practitioners
What Is an Impact Fellowship?
Impact fellowships are programs that support emerging and experienced leaders to increase their effectiveness as changemakers. Impact fellowships build participants' confidence, enhance their abilities, increase their access to opportunities, and strengthen their networks.
Whether the participant is the founder of a community-based organization in Wisconsin, a primary school teacher in Uganda, or a university student in Pakistan, fellowship program participants are selected for these opportunities because they have demonstrated the passion and potential to bring about positive change for their institutions and communities.
History of the Impact Fellowships Summit
Founded in 2016 by Atlas Corps, ProInspire, and Public Allies, the Impact Fellowships Summit fostered an inclusive learning and sharing community for individuals who work on social impact fellowship programs, identified and acted on opportunities for collective action, and facilitated ongoing collaboration and support among community members.
The first two years of the summit successfully built and tested the model, creating an intimate, valuable space for the community to assemble for learning and sharing.
In 2018, building on the great work of the founding organizations, IREX took on the convening role for the summit. IREX brings a unique perspective as an organization that has managed fellowship programs with participants from over 100 countries and promoted leadership development for over 50 years.
In April 2019, IREX convened its first Impact Fellowships Summit around the theme Dynamic Leadership for a Changing World. Over two days, 128 fellowship practitioners representing 86 organizations attended to share, learn, and network. In October 2020, 180 practitioners representing more than 110 organizations gathered virtually over three days to share, learn, and discuss Diverse and Equitable Leadership for a Changing World. As a result of the 2020 summit, 97% of attendees said the summit content was relevant to their work and 91% were exposed to new tools and resources that they planned to bring back to their organizations.
IREX looks forward to continuing to leverage its expertise to evolve the structure and content of the summit and push the boundaries of a traditional learning conference, while maintaining the original spirit of collaboration, flexibility, and learning.