Contest and Showcase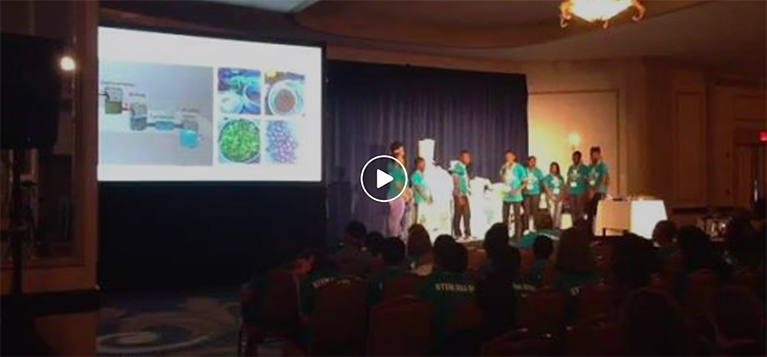 Watch the IREX World Smarts STEM Challenge Contest and Showcase. The event occurred on March 18, 2017.
The Contest and Showcase was the culminating event of the World Smarts STEM Challenge. Four months ago, 17 binational teams composed of over 250 high school students from the US and Ghana embarked on a collaborative virtual exchange to discover and create innovative STEM solutions to the following challenges:
defend your community against hazardous waste or

repower your community's energy use.
Team concepts were put on display through the World Smarts Virtual STEM Fair. A selection committee and IREX representatives chose the finalists from the Virtual STEM Fair submissions. Learn more about the World Smarts STEM Challenge »
The Contest and Showcase featured a contest between the finalist and runner-up teams for the grand prize. Binational teams composed of Ghanaian and US high school students presented their prototypes and concepts at the event to a panel of expert judges.
To learn more, e-mail worldsmarts@irex.org.
Our Partners
This World Smarts STEM Challenge was made possible by a grant from the Carnegie Corporation of New York.
Grand Prize
Congratulations to the grand prize winner: Big Bang... Brains of the World!
The winning team will receive support to market their innovation to angel investors, crowdfunding initiatives, and corporate partners to further develop, prototype, pilot, and market their idea. The World Smarts STEM Challenge will match up to $10,000 in funds raised.
Finalists
Grand Prize: Big Bang... Brains of the World!
Edinaman Senior High School from Elmina, Ghana
Eleanor Roosevelt High School from Prince George's County, Maryland, USA
Solution: Generating Electricity through Soil
First-Place Finalist: McKwiny
Winneba Secondary School, Winneba, Ghana
McKinley Technology High School, Washington, DC, USA
Solution: Indigenous Water Purifier
Second-Place Finalist: The Energizers
Accra Academy from Accra, Ghana
Georgetown Visitation Preparatory School from Washington, DC, USA
Solution: A Cleaner Footprint, One Footstep at a Time: Repowering Kinetic Energy using Piezo-Mats
Third-Place Finalist:

Green Innovators
Presbyterian Boys Senior High School, Accra, Ghana
International High School at Langley Park, Prince George's County, Maryland, USA
Solution: Exhaust Filter
Honorable Mentions
Team: STEMULATORS
Cardozo Education Campus, Washington, DC, USA
Methodist Girls Senior High School, Mamfe, Ghana
Solution: Bamboo as a Green Infrastructure | Watch the video »
Team: STEMovators
HD Woodson High School, Washington, DC, USA
Swedru School of Business, Agona Swedru, Ghana
Solution: Indicator Mobile Filter | Watch the video »
Snapshots of the World Smarts Experience