Visiting teachers bring global perspectives to Appalachian towns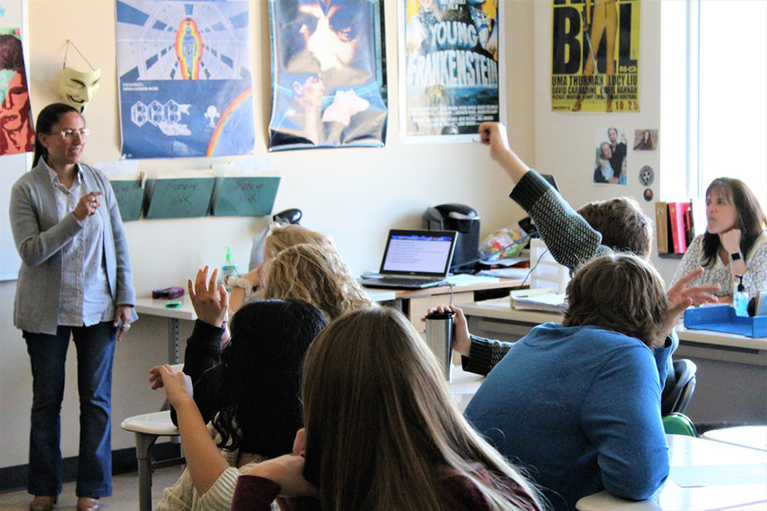 Originally published in the Huffington Post
"Our students here in the Appalachian Mountains don't have many opportunities to meet people from other countries and cultures," says Dr. Maria Anastasiou at Appalachian State University. But a recent visit by 21 science and English teachers from 16 different countries has been changing that, both for the university and the surrounding community.
Over six weeks during the fall, international educators on the Teaching Excellence and Achievement (TEA) Program, a US State Department–funded program, visited American universities in Boone, North Carolina, Bozeman, Montana, Claremont, California, and Reno, Nevada, for intensive teacher training as well as to give back to their host communities by sharing information about their home cultures, volunteering at charities, and teaching at local schools.
Preparing American students for the global economy
"I have several students who have never even left North Carolina," says Kelly Stollings, who teaches English at Watauga High School.
It's going to make [our students] more globally competent. It's going to get them better jobs.Amanda Wallace, a teacher at Watauga High School
But after TEA Fellows from Algeria, Argentina, Azerbaijan, Moldova, and Thailand taught at her school, Ms. Stollings saw a change in students' mindsets. "They can see the value of a global education, that we live in a global community," she notes.
She's far from alone in her desire to improve students' global awareness. Amanda Wallace, another educator at Watauga, discusses how developing cross-cultural communication skills not only supports positive relationships with people from other countries, but also promotes US students' job readiness in the global marketplace.
"It's going to make them more globally competent. It's going to get them better jobs," said Ms. Wallace.
Coteaching content
While the international teachers gave numerous presentations about their home cultures, they also shared their subject matter expertise. One TEA teacher visiting East Burke High School helped students compare environmental issues in North Carolina and Cambodia such as deforestation, population growth, disease, endangered species, conservation, climate change, and water quality.
Education students at Appalachian State studying the psychology of happiness were able to interview TEA Fellows and integrate their global perspectives with research findings. And Doli Chaudhuri from India cotaught a science lesson on genetics at Ashe County High, a rural school in West Jefferson, North Carolina. She facilitated an activity where students used modeling clay to learn about recessive and dominant genes and how genes and diseases are passed down through generations.
An education for American teachers
As the TEA Fellows are seasoned educators, American teachers found that they learned not only about the Fellows' home countries and cultures, but they also gained insights about the teaching profession.
"They bring a new fresh perspective to what you're teaching," shares Robin Lowe, an English teacher at Watauga High, about having international educators in her classroom.
Science teacher Alex Martin at Hibriten High School noted how having Rita Tiwari, a teacher from Nepal, in his classroom helped widen his perspective and provided a welcome opportunity to collaborate with another educator.
Heather Conwell, whose school in Connelly Springs, North Carolina, hosted TEA Fellows from Armenia, Cambodia, India, Nigeria, and Rwanda, found new authors and new works of literature to incorporate into her class.
"I feel like I've grown as a teacher and as a person just by having these other people in my classroom," says Ms. Conwell.
"It's made me much more aware of the way I teach classes... and of the need to incorporate diversity in the classroom," agrees Ms. Stollings.
A priority for US schools
While the international teachers come here to build their teaching skills, international exchanges offer enrichment and learning on all sides. American universities and schools participate in programs like TEA because the advantages for their own institutions and students are clear.
Mr. Martin notes simply, "Bringing the world to these kids is irreplaceable."
For some, like Appalachian State, global learning is a long-term stated goal. For rural schools in general, it is a rare and wonderful opportunity to connect with those from far away.
Sarah Kanipe at Watauga High says, "As a school, we've really benefitted. The media center threw a culture fair. The foods classes were pulling cookbooks from different countries to learn about their history. Everyone was involved all together in a tiny, little mountain town. And that's pretty cool."
Teaching Excellence and Achievement Program (TEA) is a program of the Bureau of Educational and Cultural Affairs of the US Department of State and implemented by IREX.