Using virtual learning to increase the reach of media literacy training in Serbia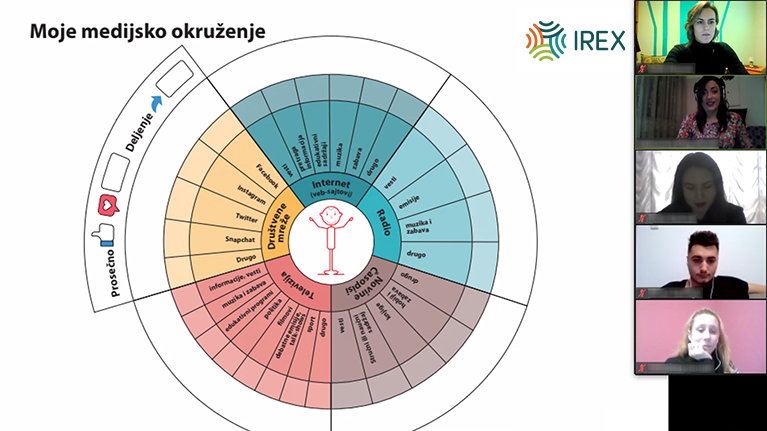 When the pandemic led to lockdowns, the Learn to Discern program in Serbia had to cancel in-person media literacy training. The program pivoted to virtual learning, which allowed more people from underserved regions to receive training. As a result, the program reached 38% more participants than originally planned and trained a large cohort of enthusiastic youth.
In Serbia, the program aims to build resilience to misinformation and propaganda among consumers of news and information. Serbian youth and adults receive training through IREX's Learn to Discern approach. This training strengthens participants' ability to analyze media, increases their knowledge about how the media industry works, and builds their sense of control over how they consume information.
Reaching more participants while maintaining quality of instruction
Before the pandemic, trainers typically conducted Learn to Discern sessions in person and used numerous interactive, hands-on activities. During the pandemic, the program found creative ways to adapt the curriculum for online training.
Online training poses challenges to trainers and participants. But despite the difficulties, the virtual adaptations actually expanded the program's reach. In 2020, the program reached more than 1,700 people and exceeded its training goals by approximately 38%.
The online approach also succeeded in increasing participants' ability to analyze the media, think critically about the information they consume, and understand how the news media works. Assessments indicated a particularly large increase in participants' commitment to using their new skills. For example, participants reported a 19% increase in their intention to modify their media consumption habits based on what they learned from the Learn to Discern approach.
Virtual training also enabled the program to train participants in geographic regions that the program hadn't previously reached. Serbians in communities that are typically underserved were able to access media literacy training for the first time.
The program engaged trainers and participants from Zrenjanin, Sopot, Sremska Mitrovica, Valjevo, Bor, Paraćin, Jagodina, Lebane, Kraljevo, Aleksinac, Leskovac, Preševo—all communities where the program did not have a presence before the pandemic.
Bringing virtual media literacy training to Serbian teachers and students
The program also leveraged virtual opportunities by piloting Learn to Discern training with a group of teachers in Serbian high schools. These high school teachers then trained over 500 students in online and hybrid settings. Teachers used several online tools—including Mentimeter, CloudWord, Quizlet, Padlet, Doodle, and Kahoot!—to engage students and facilitate greater interaction.
The program's success with the virtual format provides a useful blueprint for how to engage youth and adults in media literacy work in the post-COVID era. Remote learning can be engaging and effective, as the program has shown.
As IREX begins implementing Learn to Discern in Albania, North Macedonia, Montenegro, and Kosovo, we will incorporate lessons learned from Serbia to increase the program's reach and equip youth and adults across the Balkans with the skills to identify high-quality, fact-based information.