Using MOOCs to advance education in Nepal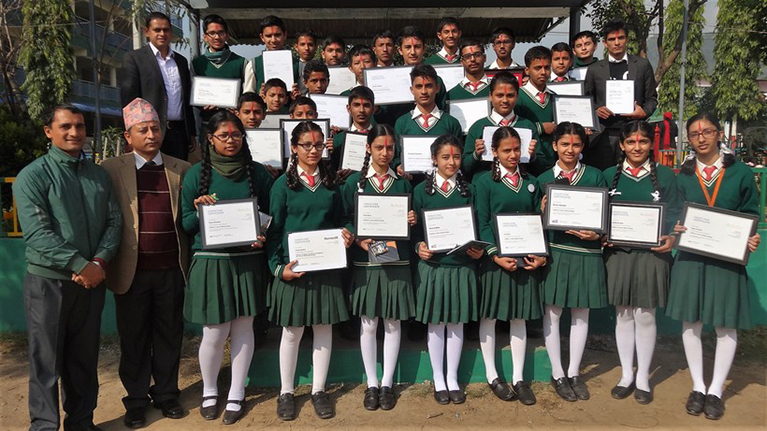 This article was originally published by Huffington Post.
In the two years since a devastating earthquake damaged or destroyed over 35,000 classrooms, Nepal struggles to get its education system back on track. But while the country has made impressive strides in improving enrollment rates for primary school students, learning outcomes at all levels remain weak. In such a challenging environment, educators like Baman Kumar Ghimire are turning to technology to innovate.
A teacher at Motherland Higher Secondary School in Pokhara, Nepal, Ghimire travels to classrooms across the country to promote MOOCs (massive open online courses). In a country where over 25% of the population lives below the poverty line, such free online classes are an invaluable educational resource, once people know how to access them.
Giving hundreds more tools to learn
To date, Ghimire's efforts have reached over 600 students and more than 100 educators across 10 cities. Trainees have ranged from 10-year-old students to a 65-year-old teacher. Following workshops like "Mentoring in MOOC Magic," participants take online courses in a variety of subjects, including math, science, English grammar, and public speaking.
Ghimire also curates online content, tying it to schools' existing curricula. And he created a Facebook group where teachers and students can share additional resources as they discover them. Ghimire says that these supplemental courses have improved students' performance on exams and increased their digital literacy, English-language ability, and presentation skills.
He adds that some normally shy students come out of their shell when presenting about the MOOCs they've taken, becoming new champions for digital learning. "My young students are the trainers now," says Ghimire. 
He also found that more girls than boys take advantage of this type of technology. "Culturally, girls are hardly allowed to leave the home," he notes. Improving girls' study skills and providing them with leadership opportunities responds to two key recommendations from the Brookings Institution on how to empower adolescent girls in rural Nepal.
Overcoming challenges
Ghimire says that more students have access to the Internet in Nepal these days but many remain unaware of its potential to advance their education and aspirations. The Government of Nepal's recent School Sector Development Plan 2016–2023 considers technology to be essential for the country's future development but confirms that currently, "ICT equipment in schools is mostly being used for administrative purposes."
Despite this need, building understanding of MOOCs' potential benefits wasn't always easy. "Convincing school administrations to become involved was very challenging," Ghimire states. Students also encountered numerous technological problems. And he had to coach them in troubleshooting these issues as well as refer them to online computer courses.
Inspired to action
Ghimire's keen interest in the potential of technology to promote learning was inspired in part by his time in the United States in the Teaching Excellence and Achievement Program (TEA), where he learned about lesson planning, teaching strategies, and instructional technologies.
To continue to reach more Nepalese schools about the benefits of MOOCs, Ghimire has made allies of participants from other U.S. State Department initiatives, such as the English Language Fellow Program (ELF), and he coordinates with the Regional English Language Office (RELO) at the U.S. Embassy in Nepal.
"This is being spread about the country," he notes with excitement, "and it's bringing changes in our lives and the lives of our students."
The Teaching Excellence and Achievement Program (TEA) is a program of the Bureau of Educational and Cultural Affairs of the U.S. Department of State and implemented by IREX.