Supporting transgender Sri Lankans' civic participation through independent journalism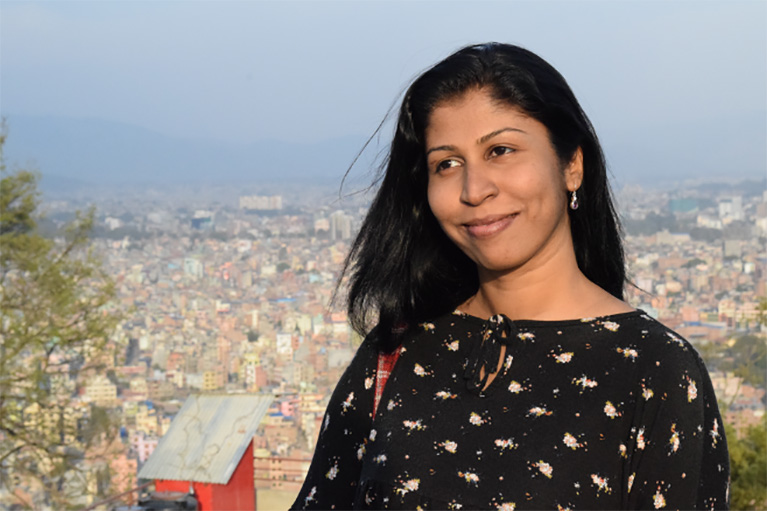 Minority voices are seldom heard in Sri Lankan mainstream media. When journalists highlight underrepresented communities, the results can be transformative. For example, MediaCorps Watch's reporting on barriers that transgender Sri Lankans face when voting led to policy changes that increased accessibility for civic participation.
MediaCorps Watch is an island-wide reporting project produced by the Sri Lanka Development Journalists Forum (SDJF) and the Centre for Media and Information Literacy (CMIL) and supported by the USAID-funded Media Empowerment for a Democratic Sri Lanka (MEND) program.
Highlighting how polling station practices discouraged transgender people from voting
Nirasha Piyawadani, a MediaCorps Watch journalist and graduate of MEND's MediaCorps training program, has a special affinity for the problems of marginalized populations.  She decided to tackle the difficulties that the transgender community faced while voting.
Piyawadani conducted a live online interview with Thyagaraja Waradas, a transgender rights activist. "Many from the transgender community avoid going to the polling stations because of their changed gender identities," Waradas explained. "In the mandatory identification check done before casting a vote, the polling officer finds that the voter's appearance does not match the identity on their national identity card and starts questioning them."
Transgender voters are often required to explain their gender identity to an officer in front of many other strangers, which is an uncomfortable experience many would like to avoid.
After the broadcast, Piyawadani met with Sreen Yapa Boralessa, an assistant commissioner of Sri Lanka's election commission to discuss the issue in another live broadcast. The assistant commissioner said that he was unaware of the voting issues the transgender community faced until MediaCorps Watch highlighted it.
Election commission enacts changes in response to MediaCorps Watch's reporting
The assistant commissioner invited representatives from the transgender community to submit a written proposal describing challenges faced while voting and outlining suggestions and recommendations to provide a safe and secure voting environment.
Visakesa Chandrasekaran, senior lecturer at the University of Colombo, and Thenu Ranketh, from the Venasa Transgender Network, met with senior election officials to discuss their proposal. After their discussion, the commission produced the following ruling:
The commission will now allow members of the transgender community to produce their gender recognition certificate along with their identity card so voters do not need to explain their gender identity at polling stations.
The transgender community can use their temporary residence address instead of their home address, since most transgender people live away from their family homes after their gender transition. This avoids a recurrent voting issue: mismatched addresses.
The election commission will issue a special circular to inform polling officers of the changes to help ensure that the transgender community will not face discrimination when casting their vote.
"People who identify as transgender should be able to vote without any obstacle," Chandrasekaran said.
Mahinda Deshapriya, election commission chairperson, agreed that the commission should not allow anyone to be discriminated against based on their gender identity.
"This is an excellent example of how media can be used for community development," Chandrasekaran noted.
Opening the door for more exploratory reports
The election commission has invited MediaCorps Watch to do more investigative reports. The program has already produced a story on voting challenges faced by people who are blind and people who have low vision.
"MediaCorps Watch will hunt for similar stories," said Piyawadani. "[We will] ensure that all citizens, regardless of religion, ethnicity, gender identity, physical [condition], or any other issue are included in development, governance, and policy making."