Preparing journalism students for the future of media in Georgia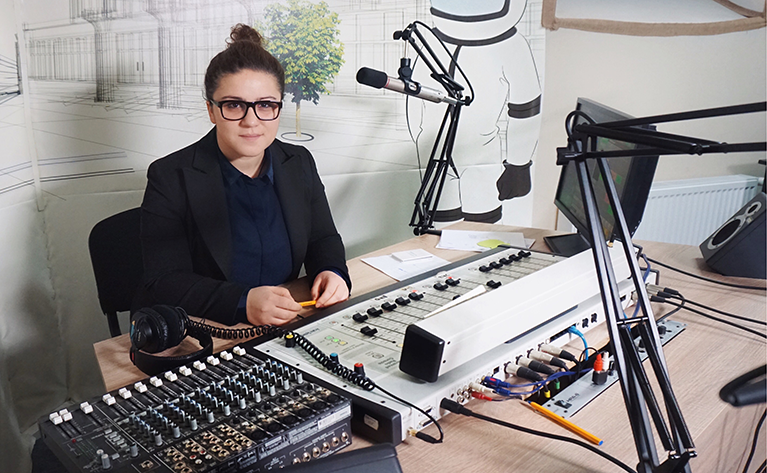 Maintaining a vibrant and resourceful media sector is essential to the success of Georgia's young democracy. Through the Media for Transparent and Accountable Governance Program (M-TAG), a steady stream of journalists with diverse professional skills is gradually reshaping the media landscape across the country. 
Partnering with local universities and educational institutions, IREX established the Multimedia Education Center (MEC)—a state-of-the-art facility where teachers train students in a real-world studio environment with tools that are comparable to those used in global newsrooms.
As a part of M-TAG, funded by USAID, the MEC supports young journalists as they learn the skills needed to succeed and build a more modern media sector that is receptive to technological advancement and progress. 
Integrating real-world experience in journalism education
More than 700 students from six partner universities and educational institutions have taken classes at the Multimedia Education Center. Under the guidance of more than 150 teachers, students benefited from hands-on experience with the center's equipment and facilities.
"I took my first steps in practical journalism at the MEC," said Gvantsa Nadibaridze, a BA student at International Black Sea University. "The MEC gave me experience which I couldn't have acquired elsewhere. The MEC is like a springboard for future journalists."   
The MEC gave me experience which I couldn't have acquired elsewhere. Gvantsa Nadibaridze, future journalist
The center is composed of a digital-ready classroom, technical room, café/social space, and a large newsroom with a production studio, editing room, and meeting spaces. Equipment, furniture, and even walls at the center can be moved around easily to change the design and layout of the space, accommodating a variety of needs.
 
Last year alone, the center hosted 371 students—almost a 17% increase from the prior year. Students, teachers, and administrators said they consider the center an indispensable resource for the journalism education sector in Georgia and beyond.  
"The MEC is an absolutely crucial resource for us. It gives an opportunity to our students to work both independently and collectively," said Nina Ivanishvili, dean of the Caucasus School of Journalism and Media Management (CSJMM). "We consider the MEC our right hand in providing education in journalism. It is an integral part of our university, which we cherish as much as we do our own school."
Connecting students to industry needs
Employers also know the value of the Multimedia Education Center, which helps supply Georgia's media industry with skilled graduates.
"Students who have undergone practical training at the MEC show tremendous potential," said Caroline Sutcliffe, founder of Chai Khana, an NGO that provides cross-border journalism training and online publishing for issue-based multimedia outlets in the South Caucasus. "The high-tech facilities of the MEC and outstanding trainers give these journalists a 360-degree view of the field, as well as a competitive advantage in their careers."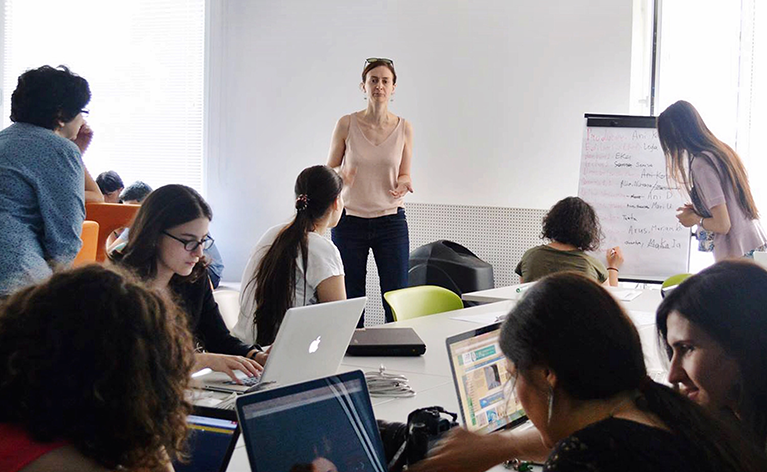 Those who studied at the Multimedia Education Center now work in newsrooms across the country.
"Access to the MEC gave us a tangible advantage immediately," said Tamar Mshvenieradze, a CSJMM MA program graduate, filmmaker, reporter, and producer of the daily show Realuri Sivrtse (Real Space) at the Georgian Public Broadcaster. "It was not just that we could use equipment, but more importantly we could work in a special space which resembled a real newsroom."
After five years of support from IREX, the Multimedia Education Center began the process of registering as an independent facility in April 2017. This important first step in long-term sustainability will allow the center to work more easily with other local partners in the country's media sector.
As it transforms gradually into a local, sustainable organization, the center will continue to advance its mission of supporting a multi-skilled generation of future journalists.
"The MEC is helping to raise the bar on quality, independent journalism across the South Caucasus, through investing in the next generation of talent," Sutcliffe said.
The Media for Transparent and Accountable Governance Program (M-TAG) is funded by USAID and implemented by IREX. The program aims to strengthen journalism in Georgia and improve the public's access to independent, reliable, and balanced information.