Meet Wisconsin's global educator of the year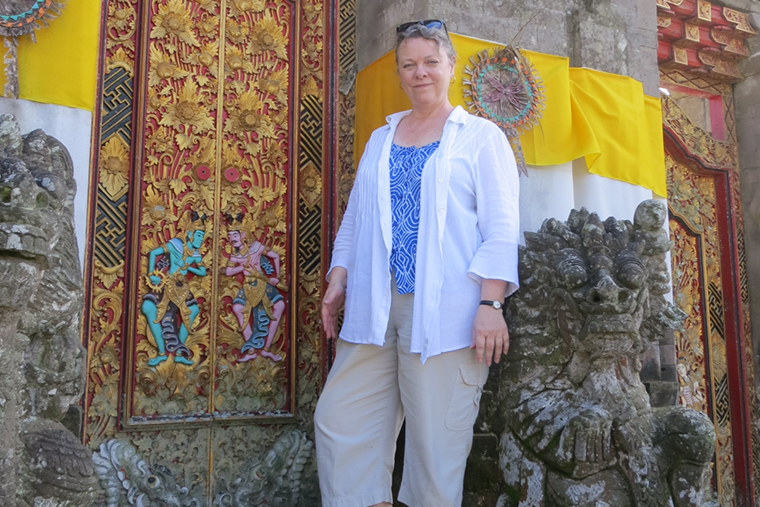 "The world isn't out there, it's here. We are diverse, and we are a global community. It's just a matter of seeing it," says Lou Kindschi, a social studies teacher from Oregon High School in Oregon, Wisconsin. Kindschi always had an interest in global education, but it was her time in the Teachers for Global Classrooms (TGC) Program that helped her identify concrete strategies to incorporate global competencies into her classroom, school, and district.
In recognition of the impact of her work, the Wisconsin Department of Public Instruction named Kindschi the first recipient of the statewide Global Educator of the Year award.
Connecting Classrooms to the World
Through TGC, Kindschi and teachers from across the United States participated in an online course that helped them think about their classes, materials and curriculum from a more global perspective. Then she and a group of peers traveled to Indonesia in the summer of 2013 to research and understand the similarities and differences between global education in Indonesia and Wisconsin.
When she returned to Wisconsin, Kindschi created the Global Lens project, which connects students in her classrooms with students in India and Indonesia to help them analyze a variety of world issues, such as religion and gender norms, from different perspectives. She also started the Go Global project, where she and a group of students travel to different countries during spring break. This program is modeled after her own TGC experience, with each student creating their own research question which they examine over the course of the trip.
"I want my students to understand that I will never know everything about the world," Kindschi explains about the project. "I don't have to be an expert. We're all learning and [we continue] learning together."
Expanding Global Education Beyond the Classroom
"The program helped me take a look at a seemingly unwieldy task of bringing global education to a [school] district, and make it doable," Kindschi explains.
The TGC experience inspired her to bring global education programs to her entire school district. "I felt empowered and enabled to make a compelling and cogent goal that was important for our district," she recalls.
Kindschi began to work on a Global Education Summit for Oregon High School, which brought together teachers, administrators and students from across her district to advocate for global education in their classrooms and school system. She brought in her fellow TGC teachers to help lead and facilitate sessions on global education at the summit.
But Kindschi's quest to expand global education did not stop with her school. She partnered with the Wisconsin Department of Public Instruction to help advance their statewide global education agenda, and included planning the summit and working on a statewide global education high school curriculum and certification program for students—one of the first of its kind in the United States.
Kindschi is positive that global education will remain a focus in Wisconsin state education. "Global education is something everyone can agree on, no matter how you look at."
Teachers for Global Classrooms is a program of the United States Department of State Bureau of Educational and Cultural Affairs and implemented by IREX.