Increasing technology access for youth in Tunisia through coding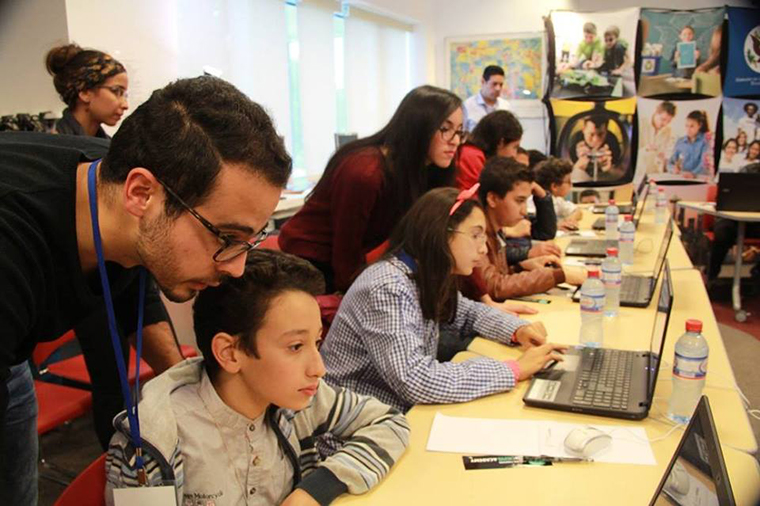 Passionate about computer programming and digital learning, a group of Tunisian students launched the Young Tunisian Coders Academy (YTCA) in 2015 to teach youth ages 10–15 in Tunisia coding skills. After participating in the Thomas Jefferson Scholarship Program's Tunisia Undergraduate Scholarship Program (Tunisia UGRAD), they were inspired to start the organization to help expand technology access across the country.
"[After participating in Tunisia UGRAD], we did not want to come back to Tunisia empty-handed," said Abdelatif, YTCA's cofounder and outreach coordinator. "We acquired a lot of skills in the US and we wanted to put them in practice back home."
So Abdelatif teamed up with Kyane, a cofounder and an alumnus of another US Department of State program, along with fellow Tunisia UGRAD alumni Faten and Slim, in addition to two other alumni from other US Department of State programs, to start YTCA. As a coding training program, YTCA uses Scratch, an open-source programming language, to help youth program their own interactive stories, games, and animations. Scratch also helps strengthen their creativity, reasoning skills, and collaborative work—key competencies in this information age.
With the support of the US Department of State's Alumni Engagement and Innovation Fund (AEIF), the group taught 350 children in 23 of Tunisia's 24 governorates to code using Scratch, focusing on students with limited access to technology—a feat made possible through IREX's Tech Age Teachers Tunisia (TAT) project.
Harnessing technology for education
Both the YTCA and TAT help youth increase their technology skills by using computers, tablets, and other devices for self-development and learning. While the latter focuses on teachers' digital literacy skills and teaches them how to engage students with technology by setting up technology clubs, the former looks to enhance the digital skills of both students and teachers to help them develop a deeper connection with technology.
"We were lucky to have this pre-established network of teachers, without which we could not have gone national so quickly," said Kyane.
One of the YTCA's first activities was recruiting and training coaches from across the country to work with youth in Scratch and prepare them for a national coding competition. Mounira Dhifallah, a math teacher in Jerba and a participant in both programs, attests that the training she received from IREX prepared her to coach youth. "Tech Age Teachers opened the door for the YTCA," said Dhifallah.
Foundations for future learning
After the success of the YTCA's national competition in Tunis, Abdelatif, Kyane, and the team are planning to expand their reach with Coder Summer Camps for youth this August.
The YTCA team is convinced that youth need to be prepared to learn new skills. By exposing youth to coding and its underlying algorithmic reasoning, YTCA believes it can open their minds and tap into their creative potential, better preparing them to become active, engaged, global citizens who contribute to Tunisia's development.
Abdelatif and Kyane explain, "Our mission is to equip [youth] from their early age [with coding skills] to render them agents of a new technological revolution in Tunisia and all over the world."
The Thomas Jefferson Scholarship Program's Tunisia Undergraduate Scholarship Program (Tunisia UGRAD) is sponsored by the Bureau of Educational and Cultural Affairs (ECA) of the United States Department of State, supported by the people of the United States, and implemented by IREX.
Tech Age Teachers Tunisia (TAT) is helping to modernize education in Tunisia by giving educators concrete technology skills to improve classroom instruction, streamline administration, and connect online with other teachers. In partnership with the Dream Blue Foundation (DBF), IREX is training school teachers to successfully incorporate technology in education.