How young Jordanians are confronting gender issues through slam poetry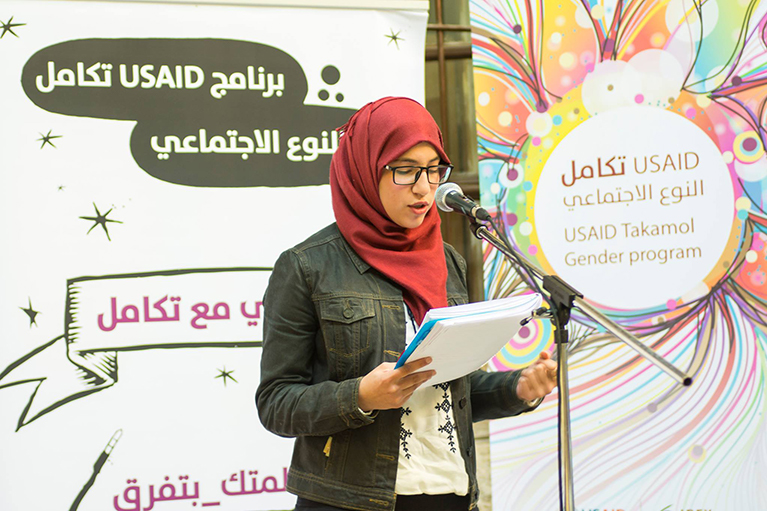 Gender inequity is not an easy subject to broach in the Middle East. By approaching the conversation through poetry, a rich and influential Arab tradition, Jordanian youth can publicly spotlight how gender issues impact their lives.
Dressed in a flowing fringed sweater and pink and red head scarf, Noor described the burden of the "chain" that she wears—a metaphor for her veil:
"On the day I was born / I was given a chain / To wear when the time was right / But the right time never came.... What I didn't realize / Is that I've been carrying its weight all my life / And every day I kept it on, the chain enlarged / Every person I met added something new / Some new expectation / Of how I should act / If I'm stupid or smart / If I'm religious or not / If I should speak to men or shake their hand."
Noor was one of eleven young men and women who braved the stage at American University of Madaba in central Jordan to share her poem with more than 100 fellow students, teachers, and community leaders. The poets and their instructors took their performance to five universities in Jordan, building interest and inspiring similar activities along the way.
Empowering youth to take gender issues mainstream
Poetry slams are one part of the USAID Takamol Jordan Gender Program, which IREX implements. The events raise community members' awareness about gender issues. They also enable young Jordanians to share thoughts and experiences about sensitive issues in a socially acceptable way. 
This approach builds on the Arab world's rich poetry heritage while adapting the unique conventions of slam poetry.
Sally, another poet in the group, directed her poem at her mother. She asks how she might have been treated differently—or given more opportunities to dream—if she had been born a boy instead of a girl: "And I wondered, If I was your male child / Would you have come to me / Asking your own Daughter / To give up on her dream, or just leave it to last.... All I wanted is for you to listen / See / My Dreams are more than a white wedding dress / But would you support or show me more stress?"
Male poets discussed the burden of the often unattainable expectations placed on men. One Palestinian refugee participant shared his sadness at not being able to get a job, support his family, or attain other markers of "manhood" because of his circumstances.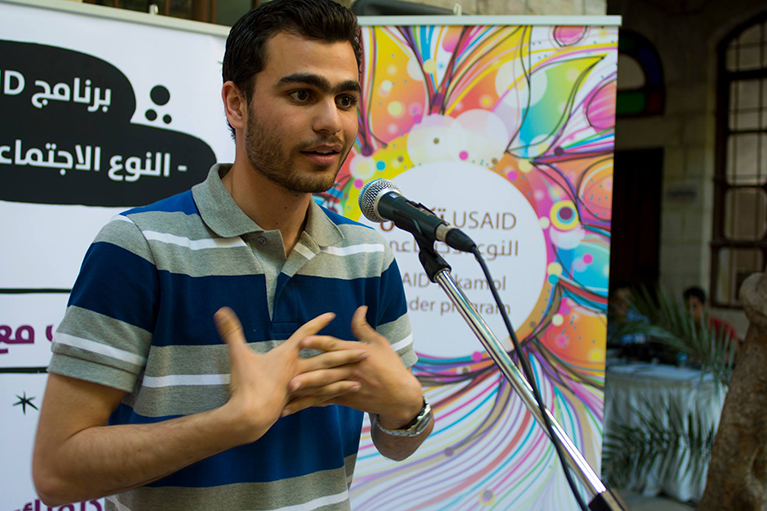 Amplifying youth voices to increase impact
The poets on stage were selected from a pool of 66 youth who applied to participate in the program. Once selected, these young people benefited from several months of training from professional poets who helped them develop their performance skills and confidence.
The competitions have fueled similar activities at universities across Jordan. Teachers are now working with students to develop their own slam poetry events. The best poets are invited to join the touring group.
Feedback from participants has revealed an excitement about using poetry to have difficult conversations.  
"El Ma7ki Ma3 Takamol helped me initiate my career as a writer who works on social change," said Ahmad Alabdullat. "It gave me the chance to show my talent to the local community, meet new people, and develop my writing skills."
The USAID Takamol Jordan Gender Program is funded by the U.S. Agency for International Development. IREX implements the program.