Educators and legislators open the world to Illinois students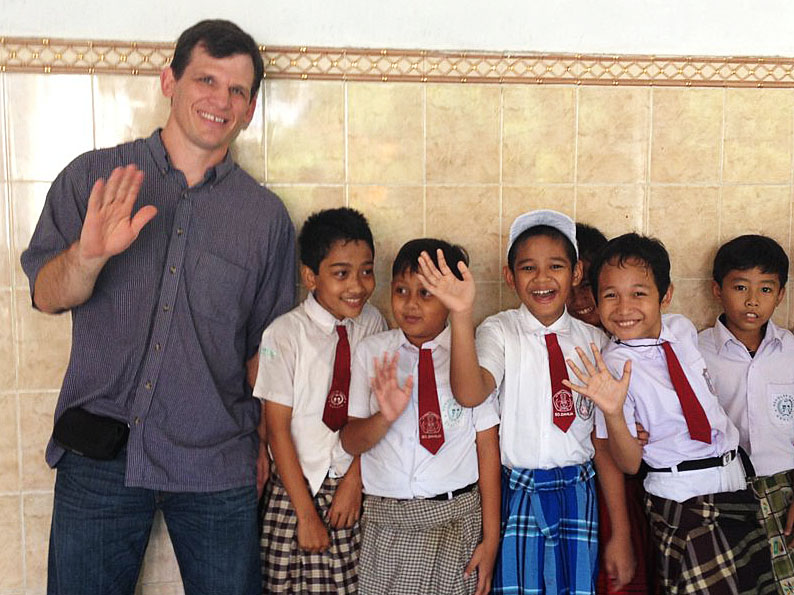 This story was originally published in the Huffington Post.
Seth Brady, a world religions and social studies teacher in Naperville, is leading an effort to offer a high quality global education to high school students across Illinois.
Brady is one of about 400 US and international teachers that the US State Department sponsors each year to go abroad on professional development programs designed to help them become change agents, prepare students for living in a globalized world, and promote mutual understanding between the U.S. and other countries.
As a fellow in the Teachers for Global Classrooms Program (TGC), Brady participated in a rigorous online course and then traveled to Bangka Island, Indonesia in 2013, where he spent two weeks co-teaching classes, learning about Indonesian education and culture, and building relationships with students and teachers while sharing information about the United States with his hosts. His interest in world religions led him to blog about Balinese Hinduism, and the mosques, churches, and Islamic boarding school he visited.
His experience in TGC made him a strong proponent of developing students' "Global Intelligence," their ability to explore, appreciate, and learn from other cultures. He notes a growing body of evidence suggesting that students' future careers will require them to both collaborate and compete in an increasingly interconnected world.
After completing the program, Brady began integrating interdisciplinary lessons into his coursework so students at Naperville Central High School could personalize their understanding of the global economy. For example, students used business tools to investigate how and where their clothing was made and studied the source community's art, geography, language, politics, and religion.
But he wanted more than just his own students to benefit from a global education. Brady began meeting others—teachers, school administrators, and businesspeople—who, like him, believed that infusing world perspectives into school curricula gives students the ability to think critically, solve problems creatively, and engage with anyone in any cultural context.
The coalition grew to include other TGC alumni (Chris Heffernan, Brian Hurley, Jenn Nekolny, Cyndi Oberle-Dahm, Hina Patel, and Jon Pazol), Brady's colleague Randy Smith, the Title VI Centers at the University of Illinois, the University of Chicago, and Northern Illinois University as well as faculty from other higher education institutions and members of the nonprofit community.
In order to move beyond the local district level, this coalition embarked on an effort to create a global education certificate that would benefit students across the state. But despite the broad base of support for the program, some people had questions.
"It took time and care to explain what global competence was and why it would be of value to the diverse communities and economic sectors of our state," notes Brady.
They eventually secured the support of members in the Illinois general assembly, including Rep. Cynthia Solo (D-Chicago), Rep. Linda Chapa LaVia (D-Aurora), and Sen. Kimberly Lightford (D-Maywood), who introduced a bill on global education. Six months later when Governor Bruce Rauner (R) signed the Illinois Global Scholar Certification into law, Brady was thrilled.
Illinois joins a bare handful of states, including North Carolina, Wisconsin, and Georgia, that have this type of initiative. The certification both encourages and recognizes student achievement in a combination of globally focused coursework, service learning, virtual or in-person collaboration with other students overseas, and a capstone project investigating a global issue. The coursework specifics are up to each individual school district.
"TGC was instrumental to this effort," Brady says, crediting his time on the Teachers for Global Classrooms project. "Put simply, without TGC, this opportunity would not exist."
Brady also submitted a proposal and won a recent $100,000 grant from Farmers Insurance's Thank America's Teachers initiative. As the Illinois bill is not funded, educators and faculty are using the proceeds to develop training materials and provide professional development to teachers in order to formally launch the Certificate for the 2017-2018 school year.
"We need to prepare a generation of students to think creatively about how the problems that face our world can be solved in a thoughtful manner that respects the diverse interests of our planet," says Brady.
The Teachers for Global Classrooms Program (TGC) is funded by the Bureau of Educational and Cultural Affairs of the US Department of State and is implemented by IREX.