Register: Impact Fellowships Summit
About         Register       Get Involved         Agenda         Partner         Resources         Contact Us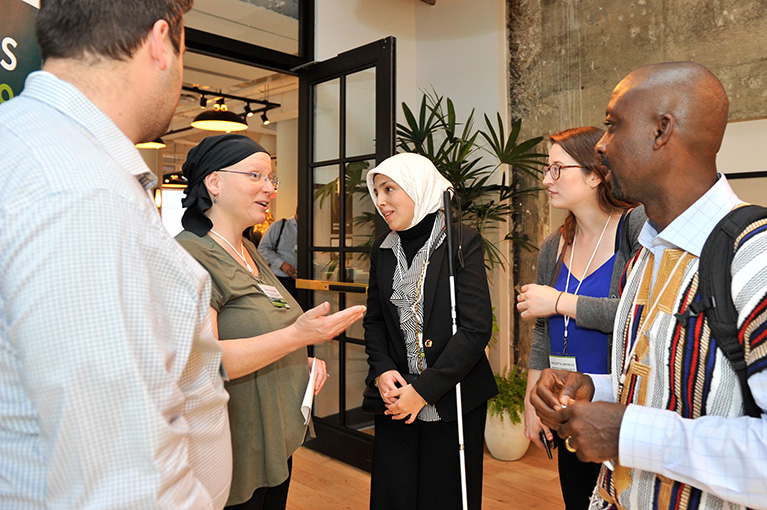 Join us in April 2023 for the next Impact Fellowships Summit. The theme will be All About Alumni: Centering Growth Beyond the Fellowship Experience and Nurturing Continued Community Engagement.
Dates: April 25–27, 2023
Location: Online and in-person (hybrid)
Register to Attend: Impact Fellowships Summit
Register today to secure your hybrid seat at the summit. We will kick off the summit on the 25th with an in-person networking reception in Washington, D.C., featuring a panel presentation and poster presentations, and the opportunity to connect and reconnect with the community. The bulk of the summit will be held April 26-27 online, which will include a "collaboration corner," an opportunity to participate in networking, the results of the Fellowship Alumni Network Study will be shared, and more.
REGISTER NOW: DISCOUNTED
Discounted Registration
You are eligible for discounted registration if your organization has fewer than 50 employees.
REGISTER NOW: REGULAR
Regular Registration:
Use regular registration if your organization has 50 or more employees.
Types of Sessions
Call for Posters
During the presummit in-person Networking Reception, Summit attendees will have the opportunity to present posters summarizing their research, projects, etc., both independently and with colleagues. An informal space will allow our fellow attendees to move through poster presentations at their leisure and connect on similar interests and expertise.
Breakout Discussion
In a breakout session, several presenters share different perspectives about the same topic. Then the panelists take questions from the audience. To suggest a breakout session, you can nominate other speakers to participate on the panel with you, or we can help identify who would be a good fit.
Workshop
In a workshop, one or more facilitators lead a hands-on training session to build foundational skills. You can propose a workshop that you would like to lead or a workshop that you would organize with others.
Community Building
If you have an idea for how the summit can facilitate community building, wellness, or resilience, submit a proposal to lead a community building activity. The activity can last 5 minutes or up to an hour.
Lightning Talk
In a lighting talk, you'll have 5–10 minutes and 20 slides to present on a critical topic. This is a chance to inspire, challenge, and engage your colleagues.
Launchpad
Have you developed a new method, tool, or curriculum you want to pilot? A launchpad session is a chance to test a new idea with summit participants.
Other
Don't see your ideal session format here? Suggest a different type of session.
How We Evaluate Proposals
The Impact Fellowships Summit team and steering committee will evaluate proposals using the following criteria:
Successful proposals will:
Our goal is to accept as many session proposals as possible that meet the criteria and fit into the summit's schedule. Please note that the working language of the event is English. At this time, we are not able to provide translation beyond captioning in English or American Sign Language translation.
Technical Tracks
Sessions may focus on:
Sustaining Equitable Networks
Determining what works, and what does not towards a strong dynamic fellowship network
Getting to Positive Change
Supporting fellowship alumni to put their knowledge, skills, and learnings into action
Learning Pathways
We will categorize all summit sessions by learning pathway (and technical track) to help attendees meet their personal and professional learning goals while attending the summit. The three learning pathways are:
relation to the summit theme and at least one track,

clarity of the session title, description, and stated outcomes,

contribution to a diversity of voices represented at the summit,

promotion of learning, sharing, or networking, and

interactivity of session by involving attendees through either participatory methods or engaging content.

approaches and best practices for building and sustaining active and equitable alumni networks,

understanding how recent program adaptations have affected fellowship goals, the building and strengthening of networks, alumni engagement, and how data on adaptations is informing network development,

approaches and best practices for incorporating diversity, equity, and inclusion into the bedrock of fellowship networks, recognizing that how DEI is understood and unpacked can differ by geography or other identity factors,

promoting a culture of alumni wellness and resilience that ripples across a network, and

examples of different kinds of alumni networks and how to determine the best approach for your fellowship alumni.

effective strategies and approaches for how fellowships and alumni engagement contribute to positive societal change,

learnings from impact evaluations or other research that identify best practices that position alumni to contribute to the drivers of change,

using effective developmental or traditional evaluation tools and approaches to better measure and learn from the short and long-term impact of fellowship programming, particularly on what works in supporting fellowship alumni to take action,

adapting existing approaches that will increase and strengthen connections and collaboration between alumni and across fellowship programs that supports systems change, and

strengthening alumni connections to their communities that model the values-based, inclusive, and equitable interactions and opportunities we seek to achieve at all levels of society.

Learning for me:

Learning that informs attendees' personal practice for professional growth and well-being. Sessions in this pathway will provide attendees with knowledge, approaches, methods, skills, and tools for personal and professional growth, wellness, and resilience.

Learning for us (our team or organization):

Learning that informs attendees' practice as a member of an organization or team. Sessions in this pathway will support attendees with knowledge, approaches, methods, skills, and tools that they can bring back to their teams or organizations to support better fellowship implementation.

Learning for them:

Learning, proving, or demonstrating something for an outside audience such as fellows or alumni. Sessions in this pathway will introduce or deepen knowledge about approaches, methods, tools, resources, or platforms that fellows, alumni, and other stakeholders can directly benefit from as they participate in their fellowship, or alumni networks, or utilize in their own work.