Register to Attend: Impact Fellowships Summit
About         Register         Agenda         Partner         Resources         Contact Us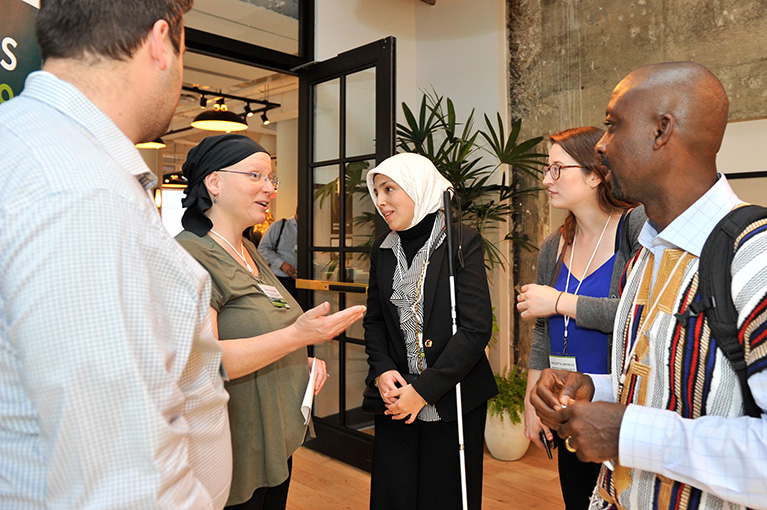 Join us for the next Impact Fellowships Summit October 27–29, 2020. The summit will feature the theme "Diverse and Equitable Leadership for a Changing World."
Register to Attend the Impact Fellowships Summit
Due to the COVID-19 outbreak, IREX has decided to reschedule the Impact Fellowships Summit to October 27–29, 2020, and shift the event to a virtual platform for this year. The IFS team is committed to providing an interactive and impactful experience for IFS attendees.
If you have already registered, your registration will automatically be applied to the new dates for the summit. If you are no longer able to attend, please let us know and we will be happy to issue you a refund.
Thank you for your patience during this difficult time. Please do not hesitate to contact us about any questions or concerns. We will announce upcoming virtual events for the Impact Fellowships Summit community on the "Resources" page.
Registration for the summit remains open. Space is limited. We're envisioning 150 seats at the summit.
Standard ticket: $200*
Discounted ticket: $100* (for employees at small NGOs)
You are eligible for this discount if you work at an NGO that has fewer than 50 employees.
*A $10 processing fee will be added at the PayPal checkout. Registration payments are nonrefundable; however, if you are unable to attend you may transfer your registration to a colleague. Please contact IFS@irex.org if you have questions or concerns.
Scholarships Are Available
We are committed to ensuring that as many members of our fellowships community as possible are able to attend the Impact Fellowships Summit. To be considered for scholarship support, please complete the scholarship request form and IREX will contact you should funding be available.
Reserve a Booth for the Learning Lab and Marketplace

Do you have an innovative tool, technology, or service that can improve the management or impact of fellowship or leadership programs? We invite you to demonstrate how your product works, answer questions, and sell your product. Apply to exhibit at the virtual Learning Lab and secure a virtual booth to exhibit for the duration of the summit. We have pricing options that vary depending on whether you are attending the entire summit or just interested in exhibiting.
Technical Tracks
Connections Matter
Modeling what we seek to achieve in society by intentionally fostering diverse and inclusive community and networks
Sessions may include discussions focused on effective strategies and approaches for intentionally building and strengthening alumni communities and networks, connections, and collaboration between fellowship programs, and alumni connections to their communities that model the values-based and equitable interactions and opportunities we seek to achieve at all levels of society.
Where's Your Impact?
Understanding how differing geographic and sectoral approaches to fellowship programs contribute to lasting systemic change
Sessions may include discussions about:
lessons learned and strategies for determining how program aspects like the fellows' geography or fellowship locations, sectoral diversity, or fellowship identity affect the recruiting approaches used and the kinds of activities implemented,
the monitoring, evaluation, and learning activities they undertake, and
the impact programs achieve in the short and long term.
Additionally, sessions may also focus on recruiting for diversity, employing best practices around inclusion for programs and fellows themselves, or how creating more diverse and equitable groups and programs is affecting outcomes or overall impact.
Answering the "So What?"
Adapting and modeling a learning mindset within programs for greater effectiveness and impact with a diverse range of stakeholders
Sessions may include discussions about:
effective developmental or traditional evaluation tools and approaches to better measure and learn from the short and long-term impact of fellowship programming,
how to proactively engage a multitude of stakeholders (including fellows, partners, and community leaders) in monitoring, evaluation, and learning activities and create a culture of inclusive learning and evaluation with fellowship programs,
strategies for engaging broader communities in learning and adapting, and 
technologies to foster better learning outcomes for diverse fellows and integrate data-driven decision making into program management and content.