Register to Attend: Impact Fellowships Summit
About         Register         Agenda         Partner         Resources         Contact Us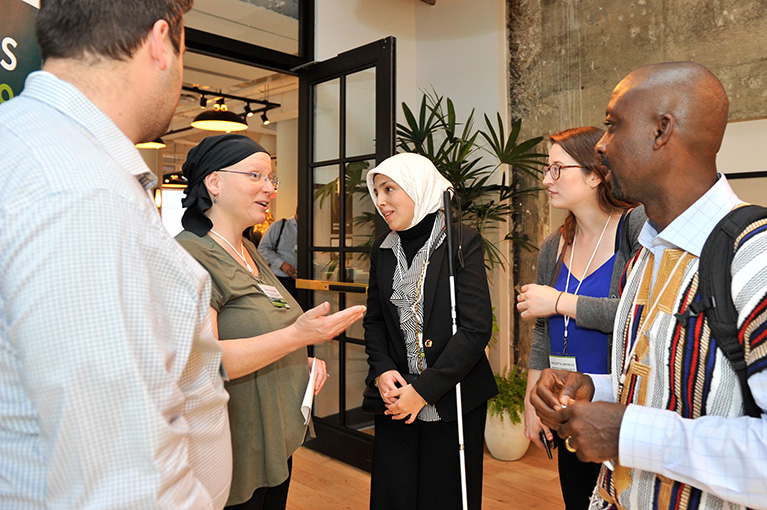 Join us in November 2021 for the next Impact Fellowships Summit. The theme will be Beyond Fellowship Adaptation: Towards Sustained, Inclusive, and Systemic Impact.
Dates: November 16–18, 2021
Location: Online
Register to Attend
Register today to secure your virtual seat at the summit. New this year, and included in your registration fee: presummit networking, a "research corner," an opportunity to participate in a social network analysis, a new networking platform for our community, and more. Early bird registration ended on August 15.
Discounted Registration: $350
You are eligible for discounted registration if your organization has fewer than 50 employees.
Regular Registration: $450
Use regular registration if your organization has 50 or more employees.
Technical Tracks
The Whole Fellow Approach
Embedding diversity, equity, and inclusion at the center of fellowships
Sessions may focus on:
approaches and best practices for incorporating diversity, equity, and inclusion into the bedrock of fellowship programs, recognizing that how DEI is understood and unpacked can differ by geography or other identity factors,
the variety of ways—from program design to alumni engagement—that DEI practices enrich the experience and contribute to impact at all levels, including at the individual level, the community level, and the systems level,
innovative ways to foster inclusion by promoting wellness and resilience among fellows and alumni, including creative ways to use technology to support these efforts, and
ways that programs are moving DEI approaches forward despite resistance from partners, donors, or fellows.
Beyond the Fellowship
Creating and sustaining meaningful networks, deeper connections, and engaged alumni
Sessions in this track may focus on effective strategies and approaches for:
intentionally building and strengthening alumni communities and networks,
adapting existing approaches that will increase and strengthen connections and collaboration between alumni and across fellowship programs,
promoting a culture of alumni wellness and resilience, and
strengthening alumni connections to their communities that model the values-based, inclusive, and equitable interactions and opportunities we seek to achieve at all levels of society.
Impacting at All Levels
Measuring, understanding, and communicating how fellowships affect fellows, their communities, and systems
Sessions may focus on:
understanding how recent program adaptations have affected fellowship goals, the fellows' experience, and alumni engagement, and how data on adaptations is informing fellowship planning,
using effective developmental or traditional evaluation tools and approaches to better measure and learn from the short- and long-term impact of fellowship programming, including how well we support fellow and alumni wellness and resilience as leaders, and
creating a culture of inclusive learning, evaluation, and data-informed adaptations with fellowship programs, including strategies for communicating impact with different audiences.
Learning Pathways
We will categorize all summit sessions by learning pathway (and technical track) to help attendees meet their personal and professional learning goals while attending the summit. The three learning pathways are:
Learning for me: Learning that informs attendees' personal practice for professional growth and well-being. Sessions in this pathway will provide attendees with knowledge, approaches, methods, skills, and tools for personal and professional growth, wellness, and resilience.
Learning for us (our team or organization): Learning that informs attendees' practice as a member of an organization or team. Sessions in this pathway will support attendees with knowledge, approaches, methods, skills, and tools that they can bring back to their teams or organizations to support better fellowship implementation.
Learning for them: Learning, proving, or demonstrating something for an outside audience such as fellows or alumni. Sessions in this pathway will introduce or deepen knowledge about approaches, methods, tools, resources, or platforms that fellows, alumni, and other stakeholders can directly benefit from as they participate in their fellowship or alumni networks, or utilize in their own work.