Seeking partners to co-lead learning, youth and stakeholder engagement, and communications activities for positive youth development in Malawi
The USAID Youth Excel program's Malawi Youth Landscape and Learning Platform (YLLP) is seeking 1-3 local partners to co-lead activities in support of USAID/Malawi Mission's Development Objective 2: helping Malawi's Youth lead healthy, informed, and productive lives, while also enhancing the youth's ability to collaborate, learn, and adapt across USAID's Program Cycle.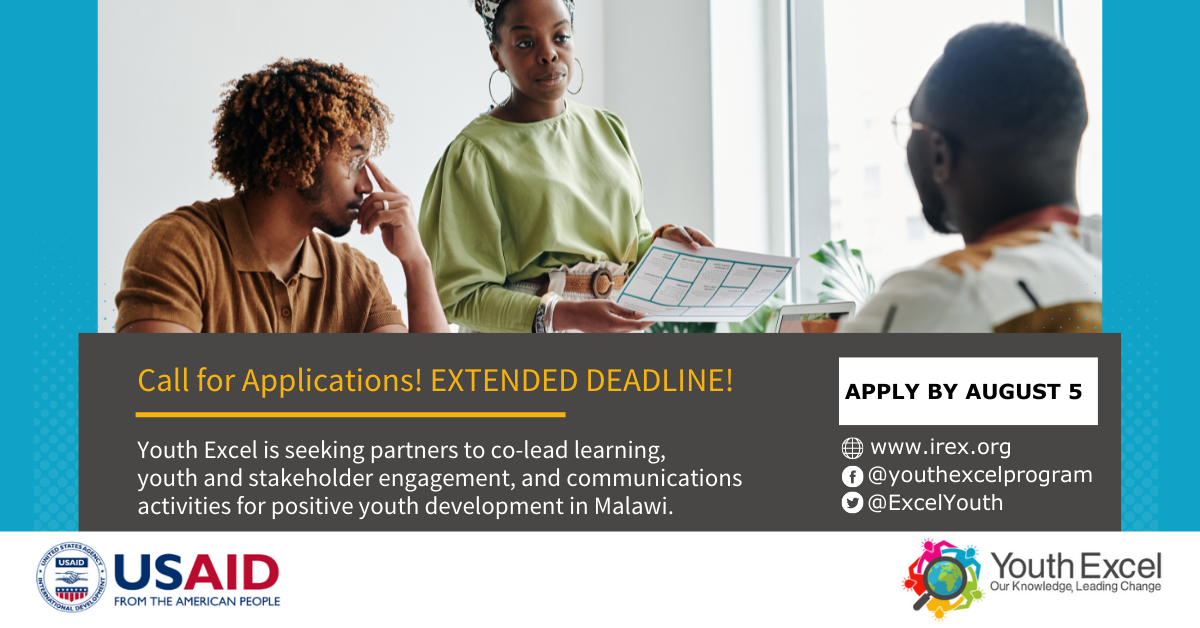 Purpose 
The selected partner(s) will collaborate with IREX to co-implement and support three tasks (1) co-facilitate a Learning Agenda for the Mission and implementing partners; (2) co-create and sustain mutually beneficial feedback loops; and (3) strengthen the capacity of Mission staff, IPs, Government, and other in-country stakeholders, intentionally creating a culture that supports, engages and elevates youth priorities.   
Who is eligible to submit an application
Local, registered youth-led and/or youth-serving organizations in Malawi that meet the eligibility criteria and share Youth Excel objectives. Organizations led by and serving youth from marginalized groups, which may include age, gender, disability, ethnicity, and other identities, are encouraged to apply. 
Deadline
Extended to August 5, 2022 by 23:59 Central African Time. 
How to submit an application
Review the  request for applications  instructions.  Draft application responses in  Word or  online  using the "save and resume later" feature, and prepare and upload required attachments online using the following templates for Attachments 1, 2, and 3: 

Send questions to excelyouth@irex.org with subject line "FY22-Youth Excel-Malawi-03 Questions" ; submit questions on an ongoing basis by August 1, 2022. Check for responses posted by August 2, 2022. Updated July 26, 2022.

Watch a recording of our June 16, 2022 informational session, download the slides (PDF, 864 KB) or access the question and answer document (PDF, 98 KB). Updated July 13, 2022.

Submit application by August 5, 2022 by 23:59 Central African Time. Updated July 26, 2022.