Seeking Local Implementing Partner to co-lead the Youth Excel Activity in Cambodia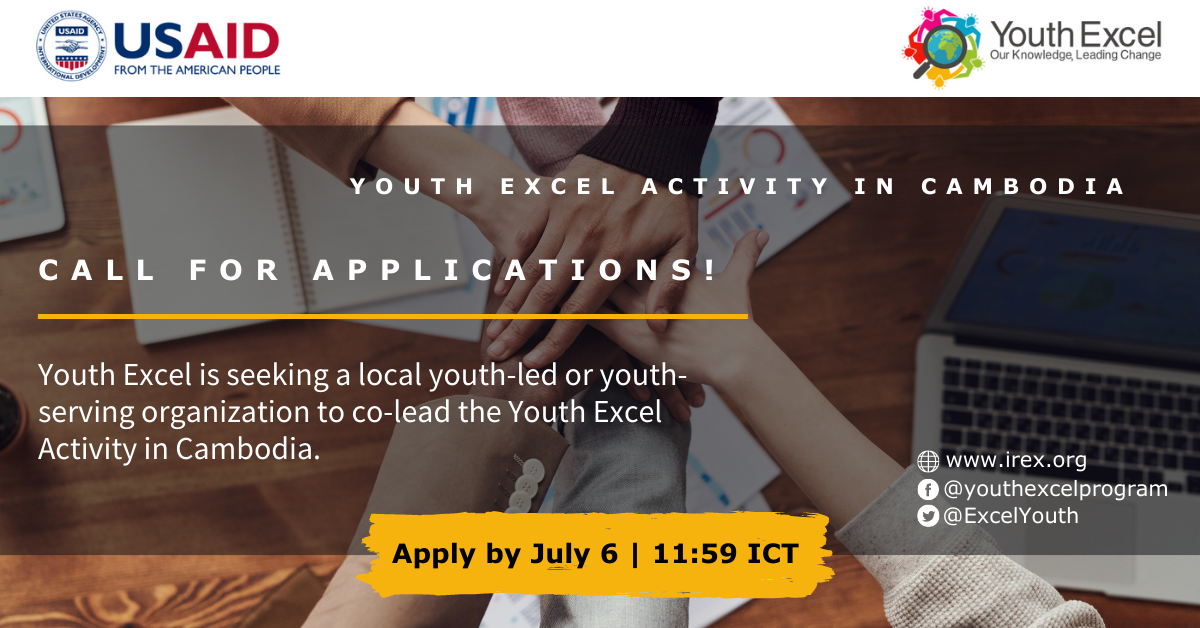 The USAID Youth Excel: Our Knowledge, Leading Change program is pleased to announce a Request for Applications for a Local Implementing Partner to co-lead the Youth Excel activity in Cambodia with the IREX Youth Excel Global team. 
Purpose 
The Local Implementing Partner will co-lead the Youth Excel Activity in Cambodia, conducting learning activities, engaging youth researchers and youth-led/youth-serving organizations, and mobilizing knowledge to help integrate youth priorities and voices in future development programming.
Who can apply to the Request for Application?
Local, registered youth-led and/or youth-serving organizations in Cambodia that meet the eligibility criteria and share Youth Excel objectives. Organizations led by and serving youth from marginalized groups, which may include age, gender, disability, ethnicity, and other identities, are encouraged to apply. 
Deadline
July 6, 2022 by 23:59 ICT 
How to submit an application 
Review the  request for applications  instructions. Draft application responses in  Word or online using the "save and resume later" feature, and prepare and upload required attachments online using the following templates for Attachments 1, 2, and 5: 

Send questions to excelyouth@irex.org with subject line "FY22-Youth Excel-Cambodia-01 Questions"; submit questions by June 22, 2022; responses posted by June 27, 2022.

Register here to attend the optional webinar open to all applicants for application development support and questions to be held on June 23, 2022, from 3PM to 4PM GMT+7 (Cambodia). 

Access the Frequently Asked Questions document here. 

Submit application by July 6, 2022.