Seeking evaluation partner to conduct the Youth Excel mid-term evaluation  
The USAID Youth Excel: Our Knowledge, Leading Change program is seeking an experienced evaluation partner from a country receiving USAID assistance to conduct a mid-term evaluation of its global positive youth development and implementation research activities.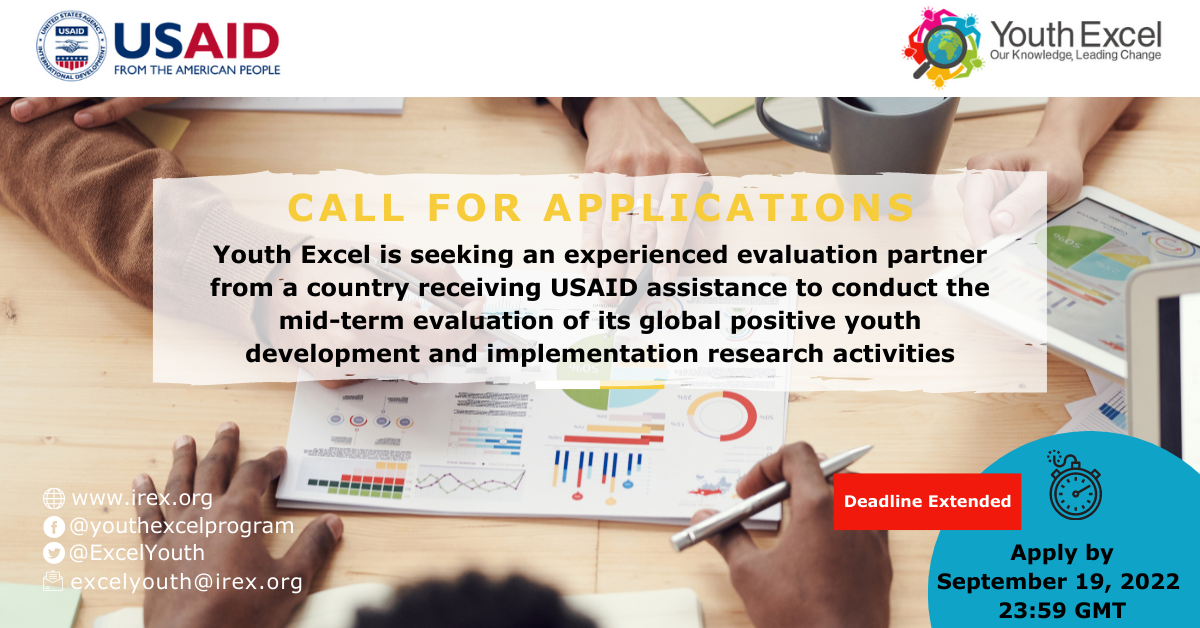 Purpose
The evaluation partner will collaborate with IREX to conduct the mid-term evaluation, which will be a performance evaluation with the main goals of identifying Youth Excel's progress towards its intermediate outcomes and determining key lessons learned, which will inform course-corrections and/or adaptations for the remaining years of project implementation. One award is available for up to $250,000 for 6 months from October 2022 to March 2023.  
Who is eligible to submit an application
Local or locally established organizations based in countries receiving USAID assistance that meet the eligibility criteria and share Youth Excel objectives. Applicants should have capacity and experience in quantitative and qualitative research, including youth-led participatory approaches, and experience working on the Youth Excel technical areas, interventions, and targeted geographic regions. Organizations led by and serving youth, including those from marginalized groups which may include age, gender, disability, ethnicity, and other identities, are encouraged to apply. 
Deadline
Deadline extended to September 19th, 2022 by 23:59 GMT (Updated August 26th, 2022)
How to submit an application  
1. Review the  request for applications  instructions.  Prepare application using the following templates: 
Application - Online Form 

Technical Proposal (Word or PDF, 10 pages maximum)

Attachment 1 - Past Performance Information (Word) 

Attachment 2 - Sample(s) of similar work if available.   

Attachment 3 - CV(s) of team lead (required) and technical specialist(s) (optional).  

Attachment 4 - Budget Template (Excel)   

Attachment 5 - Budget narrative (Word)   

Attachment 6 - Due diligence questionnaire (Word)

Attachment 7 - Registration certificate. 
2. Send questions to excelyouth@irex.org with subject line "FY23-Youth Excel-Evaluation-01 Questions"; submit questions on an ongoing basis by August 5th, 2022. Check for responses posted by August 8, 2022. Access the question and answer document here. Updated August 26th, 2022.
3. Access the postings on Facebook and Twitter. 
4. Submit application online by September 19, 2022 by 23:59 GMT.