Opportunity for U.S. K–12 teachers: Fulbright Distinguished Awards in Teaching Short-Term Program for U.S. Teachers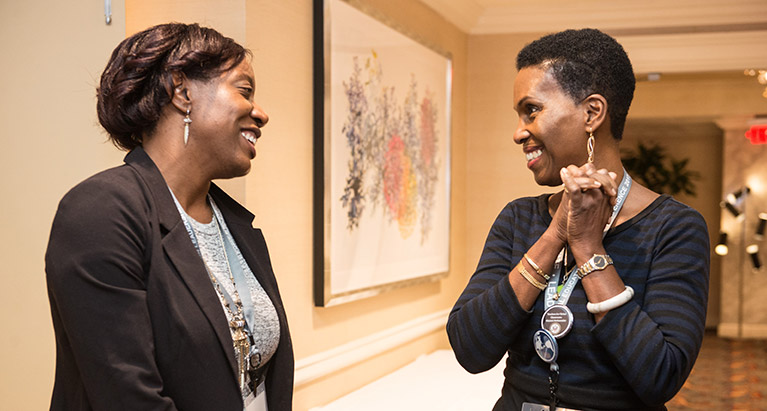 The Fulbright Distinguished Awards in Teaching Short-Term Program for U.S. Teachers (Fulbright DAST) sends expert U.S. K–12 teachers and educators to participating countries to support projects identified by U.S. embassies and Fulbright commissions in schools, teacher training colleges, government ministries, or educational nongovernmental organizations.
The Fulbright DAST Program is sponsored by the U.S. Department of State with funding provided by the U.S. Government and administered by IREX.
Eligibility
Full-time K–12 position, including classroom teachers, guidance counselors, curriculum coordinators, special education coordinators, media specialists, librarians, and gifted and talented coordinators and others located in a K-12 environment

Five years of full-time teaching experience in the U.S., a U.S. territory or school associated with DODEA 
Be a U.S. citizen, and reside in a U.S. state, territory or campus associated with DODEA
Master's degree or enrolled in a master's degree program
Demonstrated record of professional leadership and accomplishment in teaching
Demonstrated experience conducting professional development workshops
How to apply
The application for Cycle I has now closed. The application for Cycle II (for projects taking place between October 2019 and May 2020) will open in February 2019 and will close on May 6, 2019 at 11:59 p.m. EST. 
Frequently asked questions
Eligibility, program, application, and selection 
Eligibility-related Questions:
Are you still eligible if you have the five-year teaching experience requirement but are currently not teaching K-12?

No. You must be currently employed in a full-time K-12 position to be eligible for this program. 
Can speech therapists, guidance counselors, or other types of educators apply?

Yes. As long as you are employed in a full-time K-12 position and location, you are eligible to apply. See the program eligibility requirements for additional information about the types of educators who are eligible to apply. Please also view the project descriptions to which you are interested in applying for other eligibility requirements.  
My background is both in teaching as well as curriculum design. If I am not at present a teacher but instead a curriculum specialist, am I still eligible?

Yes. As long as you are employed in a full-time K-12 position and location, you are eligible to apply.
Can an applicant teach in a private school?

Yes. Provided that your school is an accredited school in the U.S., a U.S. territory or school associated with DODEA, both public and private school teachers are eligible to apply for this program. 
If I don't have an MA degree, can my professional experience be used as a substitute?
No. In order to be eligible, applicants must have the official status of either being an MA student or holding an MA degree. When completing the online application, applicants must provide proof of this eligibility criteria. Acceptable forms of proof of MA status include images of official MA transcripts (stating degree conferral or current MA status) and/or an issued MA diploma. In certain cases, an official letter issued by the applicant's university registrar or MA guidance counselor confirming the applicant's MA status can be accepted. In rarer cases, a recent payment confirmation to a university, supported by a university registrar letter confirming admission, can also be accepted. If you have any questions about what documents are acceptable, please contact IREX at fulbrightdast@irex.org.
Is there an age limit for applicants?

No, provided that you meet the eligibility requirements, you are eligible to apply no matter your age. 
Is there a language requirement for the program?

Please review the specific project descriptions for language requirements. This requirement will vary across projects.
How do you ensure a diverse group of educators is represented?

We are seeking all forms of diversity in our program. One example is that we are particularly interested in applications and inquiry project proposals that focus on serving underserved populations. We look at elements such as FARMS rates (Free and Reduced Meals) to determine if teachers are teaching in underserved communities. 
I have participated in other Fulbright programs. Am I eligible to apply?

Yes, however, preference will be given to candidates who have not received previous Fulbright grants.
Is prior travel experience held against applicants? If so, is this any prior travel or just Fulbright experience?

No. For this program, it is preferred if the applicant has some experience traveling or working abroad. 
I've reviewed the available projects and do not see any projects that relate to what I teach. My educational area is also not represented in the Subject Area Expertise section. Does that mean I am not eligible to apply? 

The Fulbright DAST Program is designed for U.S. K-12 teachers to work with an educational institution in one of the participating countries to address specific need(s) of that country as described in the project description. Assuming all other eligibility criteria are met, a teacher of any subject or educational practice area can apply for any available opportunity. That said, the strongest applications will be those that clearly demonstrate how the U.S. teacher can address the stated need(s) within the available timeframe, as well as demonstrate their expertise and skills to do so.  
Program-related Questions:
Are program expenses covered?

Yes. All program expenses are provided for the participant during this program, such as living expenses in the host country, food, travel to/from the host country, etc. An honorarium is provided for the time in country. 
How long is this program and when does it take place?

In general, the projects range from approximately 2-6 weeks, with a preference for 3 or more weeks. The Fulbright DAST Program offers opportunities twice throughout the year. Cycle I project activities take place between June and September 2019. Cycle II project activities take place from October 2019 – May 2020. Please see each project description for the specific timeframe and duration.
How flexible are the dates stated in the project description?
Unless otherwise indicated explicitly in the project description, the start and end dates for DAST projects are flexible within the timeframe of the respective DAST cycle.
May I apply for countries not listed under country locations?

No. For this program, applicants may apply only for those projects available during the current year in the participating countries.
Where will I live when I'm abroad?

The host organization with which you will work while abroad will assist in finding housing for you while you are in the host country. 
What about health care in the foreign country? What happens if I get sick?

The U.S. Department of State provides a health benefit to participants of this program. This health benefit does not replace health insurance as it is only to be used for sickness and emergencies.  We strongly recommend that all participants retain their current health insurance, if possible, or purchase private insurance while they are on the program.
Application-related Questions:
My reference has not received an email with the login information. What should I do?

Please ask your reference to check their spam/junk folders for the email and add fulbrightdast@irex.org to their safe senders list. Then, log into your application and re-send the email from the References section of the application. If the reference still does not receive it, please have them email fulbrightdast@irex.org for technical support. 
Does the Leave Authorization Form need to be received by IREX before the deadline?

All pieces of the application, including the Leave Authorization Form, must be received by the application deadline. Applicants cannot submit their application until all sections are completed.
Does our superintendent need to sign off or can my principal sign the Leave Authorization Form?

The leave authorization form must be completed by the school official authorized to grant the required salary and leave arrangements. In most cases this is the superintendent but could be the head of Human Resources or another school official.
Selection-related Questions:
How many applicants are selected for each project? Is it possible to apply as a team?

Only one applicant will be selected for each opportunity, unless noted otherwise in the project description. Applicants are considered individually and team applications will not be accepted. 
How are selection decisions communicated? Are all applicants notified, whether they have been accepted or not? Is there ever a waiting list, dependent on the acceptance of those who've been selected?

Selection decisions will be communicated to all applicants, regardless of selection result (accepted or not), via email once the selection process has been completed (see the Project Timeline section of the website for more information). There is a list of Alternate candidates selected in case Finalist candidates are not able to go abroad. If an opening becomes available, IREX will communicate this to the Alternate candidate.