Opportunity for U.S. K–12 teachers: Fulbright Distinguished Awards in Teaching Research Program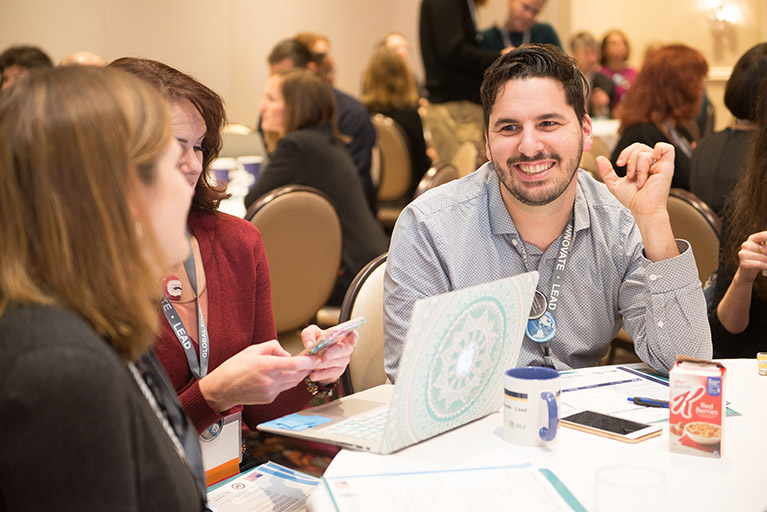 The Fulbright Distinguished Awards in Teaching Research Program provides an opportunity for K–12 educators from the United States to conduct research and engage in other professional learning experiences abroad for three to six months. Fulbright Distinguished fellows complete individual inquiry projects on a topic relevant to education in the United States and the host country, take courses at a host university, and share educational practices with colleagues.
The Fulbright Distinguished Awards in Teaching Semester Program for U.S. Teachers (Fulbright DA) is sponsored by the U.S. Department of State with funding provided by the U.S. Government and administered by IREX. It is governed by policies established by the Fulbright Foreign Scholarship Board. practices.
Are you an elementary, middle, or high school educator from the United States looking to grow your leadership skills; expand your access to global networks; inform research, policy, and practice; and promote mutual understanding?
Are you a curious, flexible, and independent learner? Do you have a demonstrated record of professional learning activities and leadership? Apply now to the Fulbright Distinguished Awards in Teaching Research Program.
Program activities
Distinguished educators who are selected to participate in the program will:
Design and implement an inquiry project related to education in the United States and host country

Build global networks of researchers, practitioners, and policy makers

Exchange ideas and best educational practices

Develop resources and tools that can be used long after the project ends
Learn more about what fellows do in the program.
Program length
The length of the program is three to six months and can take place during the fall or spring semester of the academic year, depending on host country requirements and the proposed project. 
Participating countries and territories
Please see the following country profiles for information about participating countries and territories: 
Each year, participating countries and territories are determined by the U.S. Department of State and cooperating Fulbright Commissions and U.S. Embassies. Although the list of participating countries and territories may change periodically, applicants may apply only for countries or territories listed in the application for the year that they apply.
How to apply
The Fulbright Distinguished Awards in Teaching Research Program is open to full-time elementary, middle, and high school educators who are employed at a public, private (secular or faith based), or charter school in the United States, or within the Department of Defense Education Activity at the elementary, middle, or high school level (K–12).
Application deadline: 11:59 p.m. EST on January 20, 2020
Eligibility
Eligible applicants include U.S. citizens who reside in the United States, a U.S. territory, or who work on a campus within the Department of Defense Education Activity.
Eligible educators include classroom teachers, guidance counselors, curriculum coordinators, special education coordinators, media specialists, librarians, gifted and talented coordinators, and others who spend at least half of their time interacting with students.
Applicants must have a master's degree or be enrolled in a master's degree program and/or be certified by the National Board for Professional Teaching Standards at the time of application.
Application
The application for the Fulbright Distinguished Awards in Teaching Research Program will include sections to enter personal and professional demographics, education and certification information, language proficiency (for some locations), and an opportunity to answer, in short essays, questions about the applicant's goals for the program, their background and experience, their inquiry project plan, and how they will leverage the experience for impact in their school community.
Applicants will be asked to demonstrate how their skills and experience qualify them to conduct the inquiry project that they propose.
The application will also require the submission of references and other documentation:
Resume or curriculum vitae

Professional reference from someone the applicant has worked with in a professional capacity

Professional reference from the applicant's school or district lead administrator

Leave Approval Form

Verification of master's degree conferred or enrollment or certification by the National Board for Professional Teaching Standards
Participant selection
Fulbright Distinguished Awards in Teaching Research Program fellows are selected through an open competition. Applications are reviewed by an independent panel of experts according to the evaluation criteria listed below.
When applications are received by IREX through the Online Application System, each application is screened for technical eligibility. After confirming that applicants meet the eligibility criteria, an independent committee of experts reviews the applications.
Applications are evaluated on overall quality, the applicant's qualification to conduct the proposed inquiry project, the benefit of the program for both the applicant and the applicant's school, school district and community, and a clear demonstration of educational leadership.
Other criteria include:
Preference for applicants who have at least five years of full-time teaching experience in the United States, a U.S. territory, or a school associated with the Department of Defense Education Activity

Commitment to working in K–12 education after completing the program

Preference for applicants working in high-need schools or districts, or with traditionally under-resourced populations

Professional and educational experience and leadership

Commitment to professional learning

Quality of inquiry project proposal

Demonstrated cross-cultural competence

E

ffective communication skills and potential to be an ambassador for the program

Preference for applicants who have not participated in another Fulbright program and have not had significant previous professional experience abroad (study, teaching, research, or employment)
The independent committee reviews applications and makes nomination recommendations. The Fulbright Foreign Scholarship Board approves all final nominations.
In an effort to reflect the diversity of the United States and global society, the Bureau of Educational and Cultural Affairs programs, funding, and other activities encourage the involvement of U.S. and international participants from traditionally underrepresented groups, including women, racial and ethnic minorities, and people with disabilities. Opportunities are open to people regardless of their race, color, national origin, sex, age, religion, geographic location, socioeconomic status, disability, sexual orientation, or gender identity. The Bureau is committed to fairness, equity, and inclusion.
All applicants will receive notification of a selection decision by email, whether they have been selected or not.
Professional reference
IREX encourages applicants to discuss their interest in the program with school and district administrators early in the application process. A professional reference from the direct supervisor or school head is required as part of the application, as well as a signed Leave Approval Form.
Costs
The program covers travel costs for the orientation and international field experience. Additionally, each fellow receives a stipend to cover in-country expenses associated with participation in the program, such as housing, meals, transportation, and other necessary items.
The stipend is not intended to replace a participant's salary. Educators typically negotiate with their schools and districts regarding fully or partially paid leave and benefits. The amount of the stipend provided to each participant will depend on the host country, the duration of the field experience, and other factors.
Nominating host organizations
Applicants are invited to include in their applications information about institutions or organizations they may have identified as potential hosts for their inquiry project. Placement locations and partner organizations will be decided at the discretion of the coordinating U.S. Embassy or Fulbright Commission in the host country, and will include considerations for participant safety and security, as well as feasibility of the partnership.
Health and accident benefits
The U.S. Department of State has established health and accident benefits for all Fulbright fellows. The Accident and Sickness Program for Exchanges is a basic policy and is not a substitute for your private health benefits coverage. It is not intended to cover long-term health care and has limitations in coverage. For this reason, fellows are encouraged to maintain their current policy or to obtain comprehensive health insurance coverage to cover the cost of major medical contingencies that may occur abroad.
Contact
If you have questions, please contact fulbrightda@irex.org.