Opportunity for U.S. K–12 administrators: Fulbright Leaders for Global Schools Program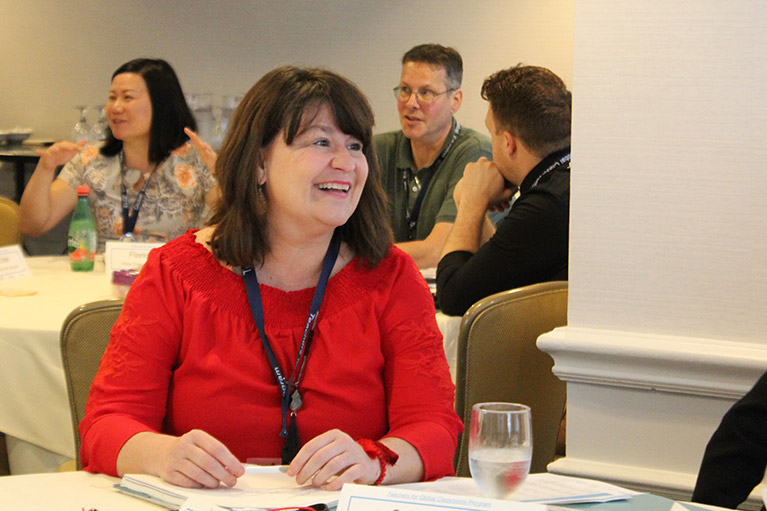 The Fulbright Leaders for Global Schools Program is a professional development opportunity for U.S. K–12 school and district administrators. U.S. administrators will travel to Finland for a 10-day immersive, international experience. Administrators will gain a deeper understanding of their roles as leaders in creating students who are ready for the global economy.
The Fulbright Leaders for Global Schools Program is sponsored by the U.S. Department of State with funding provided by the U.S. Government and administered by IREX in the U.S. and Fulbright Finland Foundation in Finland.
Eligibility and selection criteria
Five or more years of experience working as a K–12 school and/or district administrator (principal, assistant principal, superintendent, etc.)
Full-time employment as an administrator at a public, private, or charter school or district in the U.S., a U.S. territory, or within the Department of Defense Education Activity
Master's degree
U.S. citizen and resident of the U.S., a U.S. territory, or on a Department of Defense Education Activity Campus
Demonstrated leadership in education innovation
Commitment to working in K–12 school administration after completing the program
Preference for applicants working in high-need schools or districts, or with traditionally underserved populations
Ability to travel for the entirety of the program
Women and minorities are encouraged to apply. Current IREX employees and consultants and their immediate family members (spouses, parents, children, and siblings) are not eligible to compete in any grant programs that IREX implements. The U.S. Department of State and IREX do not discriminate against grant applicants because of race, color, religion, sex, age, sexual orientation, gender identity, national origin, disability, or any other protected characteristic as established by U.S. law. This program promotes diversity in education. It supports inclusion and strongly encourages applicants with disabilities to apply.
How to apply
The application is now closed.
Frequently asked questions
Application, eligibility, and selection
What does the application consist of?
­The application consists of an online form and includes questions about your school, your professional qualifications, your goals for participating in the program, and educational leadership.
You should be prepared to articulate your professional goals for participating in Fulbright Leaders for Global Schools Program, the need for this professional development experience for impact in your school and/or district, and how you will serve as an effective ambassador of the U.S. and its education system.
Is the program only for principals?
Eligible applicants include full-time school or district-level administrators. This may include but is not limited to the following list: school principals, headmasters, deans, district superintendents, and assistant superintendents.
If you have questions about your eligibility for participation, please e-mail FulbrightAdministrators@irex.org.
Who can submit a reference on my behalf?
Your direct supervisor and/or a member of the school board should provide a reference for you.
If selected, you will need to submit a leave authorization form, confirming approval from your school for travel during the academic calendar year, if applicable. This form will be provided to selected participants. 
How are applicants selected for Fulbright Leaders for Global Schools Program?
Applications are reviewed and nominated by an independent committee of experts. Finalists are recommended to the Fulbright Foreign Scholarship Board for approval.
Applications are evaluated based on the demonstration of the applicant's capacity for leadership and impact, expressed statement of need for the applicant, school and community, and overall quality of the application.
Other criteria include:
Demonstrated commitment to K

–

12 education in the United States;

Professional and educational experience and demonstration of leadership;

Articulated plans for leveraging program experience for the improvement of education in the applicant's home school and community upon completion of the program, especially for underserved student populations;

Ability to express goals and ideas clearly and effectively.
Are all applicants notified about whether they have been accepted or not?
Selection decisions will be communicated to all applicants via e-mail, once the selection process has been completed.
A list of alternate candidates will also be named in the event that finalist candidates are not able to participate.
I am a legal resident in the United States, but do not yet have my citizenship. Am I eligible?
Currently, eligible applicants include U.S. citizens who live in the United States, a U.S. territory, or who work within the Department of Defense Education Activity.
Do I have to speak a foreign language?
There is no language requirement for participation in this program.
Do I have to have travel experience?
No. Previous international travel experience is not required. Preference will be given to applicants who have had few or no opportunities to travel internationally.
Do I have to work in a public school?
No. Administrators working in a school or district that is accredited in the United States or a U.S. territory, whether public, private, charter or DoDEA, are eligible to apply.
Preference will be given to applicants who are members of, or who work in, schools or districts with students from underserved communities or traditionally underrepresented groups, including but not limited to women; racial, ethnic, and religious minorities; people with disabilities; and the LGBTI community.
About the program
Who sponsors the Fulbright Leaders for Global Schools Program?
The program is sponsored by the U.S. Department of State with funding provided by the U.S. Government and is administered by IREX.
How much time will I be away from my school?
Participants will be traveling for approximately two weeks. If selected, participants must submit approval from their school or district to take leave for this rigorous professional development opportunity.
What is the in-country program like?
Participants will travel with a group of 10 U.S. administrators to the host country and participate in a welcome orientation program, school visits, sessions dedicated to understanding school leadership and educational contexts in the respective location, and opportunities to engage with host country education leaders on issues facing school and district administrators.
What if I have a medical emergency while abroad for the program?
The U.S. Department of State provides a health benefit plan for participants of the Fulbright Leaders for Global Schools Program. This plan will supplement participants' own health insurance and would cover a sudden sickness or an emergency while on the program. Detailed information will be provided as part of the program orientation.
I do not have a U.S. passport, or my passport is expired. Do I need to get or renew my passport before the application deadline?
All selected applicants are required to have a passport in order to participate in the program. Passports must include at least two blank pages and be valid for at least six months after the program departure date.
Please note that the program does not cover passport application fees or costs associated with expediting a passport.
Questions? Contact FulbrightAdministrators@irex.org.