Mandela Washington Fellowship application information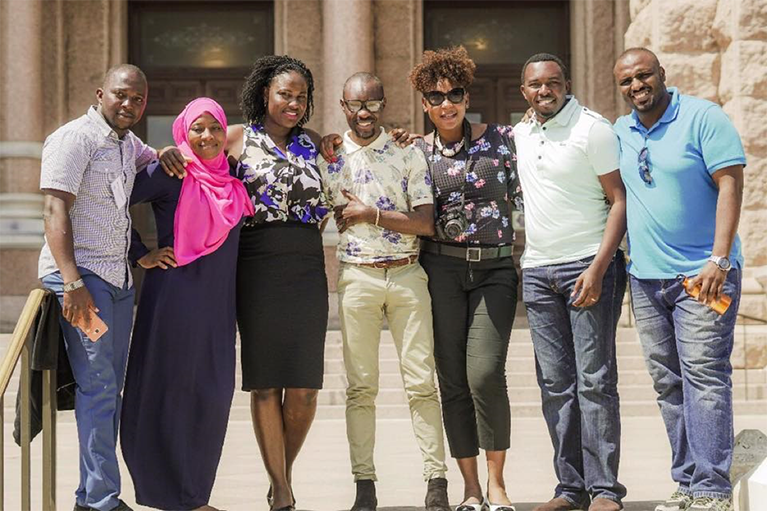 Applications for the 2018 Mandela Washington Fellowship for Young African Leaders are now closed.
Begun in 2014, the Mandela Washington Fellowship is the flagship program of the Young African Leaders Initiative (YALI) that empowers young people through academic coursework, leadership training, and networking. In summer 2018, the Fellowship will host up to 700 young African leaders.
Fellows will travel to U.S. university and college campuses for six-week Academic and Leadership Institutes in one of three tracks: Business and Entrepreneurship, Civic Leadership, or Public Management. For more details on the sector tracks, please review the application instructions.
The intensive Institute model includes linkages between academic sessions, leadership development, site visits, community service, networking, and organized cultural and civic activities. Fellows will gain both theoretical knowledge and practical skills, and the Institutes will take place from mid-June to late July 2018. The Institutes will culminate in a high-level, three-day Summit in Washington, D.C.
Additionally, up to 100 competitively-selected Fellows will remain in the United States to participate in individually tailored six-week professional development experiences (PDE) at private companies, civil society organizations, or public-sector agencies. The PDE offers Fellows practical training and the opportunity to learn transferable skills, expand their professional networks, and apply concepts learned at the Institutes to real-world situations. 
Upon returning to their home countries, Fellows will continue to build their leadership skills through support from U.S. embassies, USAID, and affiliated partners through networking opportunities, ongoing professional development, and mentoring.
Eligibility
Applicants will not be discriminated against on the basis of race, color, gender, religion, socio-economic status, disability, sexual orientation, or gender identity. The Mandela Washington Fellowship is open to young African leaders who meet the following criteria:
Are between the ages of 25 and 35 at the time of application submission, although exceptional applicants younger than 25 will be considered;

Are not U.S. citizens or permanent residents of the United States;

Are eligible to receive a United States J-1 visa;

Are not employees or immediate family members of employees of the U.S. government (including the U.S. Embassy, USAID, and other U.S. government entities);

Are proficient in reading, writing, and speaking English;

Are citizens of one of the following countries: Angola, Benin, Botswana, Burkina Faso, Burundi, Cameroon, Cape Verde, Central African Republic, Chad, Comoros, Democratic Republic of the Congo (DRC), Republic of the Congo, Cote d'Ivoire, Djibouti, Equatorial Guinea, Eritrea, Ethiopia, Gabon, The Gambia, Ghana, Guinea, Guinea-Bissau, Kenya, Lesotho, Liberia, Madagascar, Malawi, Mali, Mauritania, Mauritius, Mozambique, Namibia, Niger, Nigeria, Rwanda, Sao Tome and Principe, Senegal, Seychelles, Sierra Leone, Somalia, South Africa, South Sudan, Sudan, Swaziland, Tanzania, Togo, Uganda, Zambia, and Zimbabwe.

Are residents of one of the above countries; and

Are not alumni of the Mandela Washington Fellowship.
Please note: Fellows are not allowed to have dependents (including spouses and children) accompany them during the Fellowship.
Application and Selection Timeline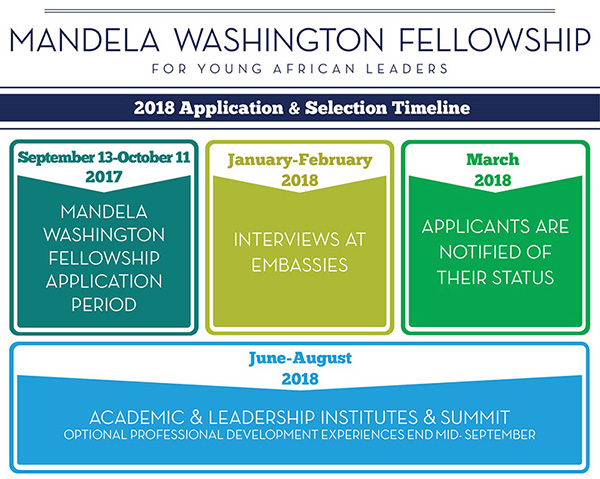 Application Materials
Contact
Please visit yali.state.gov/washington-fellowship/apply to read the Frequently Asked Questions (FAQs) and for more information on how to apply. You can also get updates via social media at Facebook.com/MandelaWashingtonFellowship and Twitter.com/WashFellowship. For additional questions about the Mandela Washington Fellowship not answered by the FAQs, please email mwfellowship@irex.org.
The Mandela Washington Fellowship for Young African Leaders is a program of the U.S. government and supported in its implementation by IREX.