Measuring media sustainability and rapidly changing information spaces in Europe and Eurasia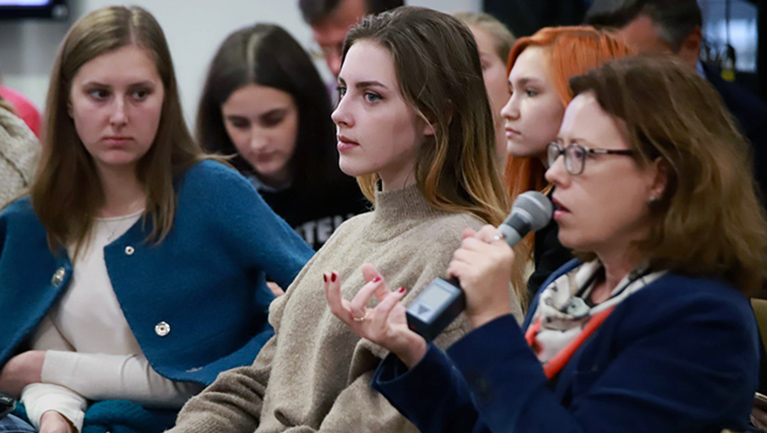 Measuring complex information systems can help people diagnose root causes to local problems and identify actions to address them. IREX is piloting a new tool—the Vibrant Information Barometer, or VIBE—to address the challenge of understanding how people create, share, consume, and take action based on information. This builds on the foundations of the USAID-funded Media Sustainability Index (MSI), which has measured the sustainability of news media institutions for nearly 20 years.
In Europe and Eurasia, as well as worldwide, journalists are increasingly under attack, and media outlets are struggling to operate under strained economic conditions. Simultaneously, the traditional media sector has shifted into a new information space with the explosion of online content on social platforms and an increase in forms of journalism and types of actors. While this transformation increases access to information, it can also foster disinformation and unprofessional journalism.
To discuss these challenges in the information and media space, IREX organized two regional events in Tirana, Albania, and Kyiv, Ukraine, in October 2018 titled "Journalism under Threat" in collaboration with the U.S. Agency for Global Media.
New approaches to measuring rapidly changing information systems
IREX's presentation at both events introduced the Vibrant Information Barometer, or VIBE—a new framework to assess information environments—which stems from IREX's approach to Vibrant Information.
VIBE aims to evaluate depth and quality of content, information flows and access, how people process and engage with information, and the relationship between information and the actions people take to bring about social change.
IREX will pilot VIBE in several countries over the next year to diagnose root causes of problems within information systems and identify solutions. The pilot testing will also allow IREX to further develop and refine the methodology and products.
Analyzing challenges to media sustainability
IREX's presentation highlighted this year's overarching findings of the USAID-funded Media Sustainability Index (MSI), journalists' safety is deteriorating, financial pressures are increasingly undermining the media's independence and professionalism, and efforts to fight disinformation are increasing. IREX also introduced the new MSI Explorer, a digital tool that facilitates visualization and analysis of the MSI data across the study's 21 countries since 2001.
In Tirana, approximately 120 participants gathered to discuss the challenges facing Balkan media, many of which are outlined in the MSI. Albania has traditionally enjoyed a healthy media space and is the second highest ranked country in the MSI for 2018, although compared to previous years its score has dropped. This recent drop can be attributed to harsh rhetoric against the media from the government and media law amendments that have pushed outlets to financially depend on their owners, which impacts the quality of reporting.
Valbona Kurti, a local editor in chief and MSI panelist, said in the study that "even the media that are considered serious are guided by [owners'] interest of the moment. In other words, editorial policy follows the interest of the owner."
In Kyiv, participants at a parallel event echoed the sentiment that journalists are operating in an unstable environment. The panel generated discussion among 50 attendees about the future of media in Ukraine, how to address disinformation, and the importance of professionalism.
Mikhail Tkach, a Radio Free Europe/Radio Liberty (RFE/RL) investigative journalist, showed gripping videos of authorities harassing his team while reporting. According to the newly released 2018 MSI report, most violations of journalist rights and most abuses that are reported in the country remain unpunished, but journalists continue to bring violations against them to court to create necessary precedents for future cases.
The Ukraine event was also impactful for young journalists to better understand their future professions. Inna Kuznetsova of RFE said, "It was great that there were students among the audience. Usually, they hear about ethical standards from teachers, and they might not pay appropriate attention. But here they heard it from other experts and experienced journalists."
Local impact of media measurement
In-depth analyses of media sectors and information spaces are useful for local media outlets and citizens to better comprehend the many factors that affect the ever-changing information landscape. Speaking about the media sector in Ukraine, Inna Kuznetsova remarked that the information and analysis provided through measurement tools like the MSI and the future VIBE are useful to understand how the sector has changed over time and the current challenges her industry faces.
Sandra Cvetkovic, one of nine journalists from Kosovo who attended the event in Albania through an IREX-sponsored travel grant, agrees that media measurement tools that analyze topics such as ethical journalism are important. She said, "Any research on this topic is useful for journalists to always write true and accurate information."
VIBE aims to build on the Media Sustainability Index to continue providing analyses and insights to Europe and Eurasia's media and go a step further to identify actions journalists, advocates, and development practitioners can take to address challenges facing information systems.