Leveraging data and evidence to promote more just, prosperous, and inclusive societies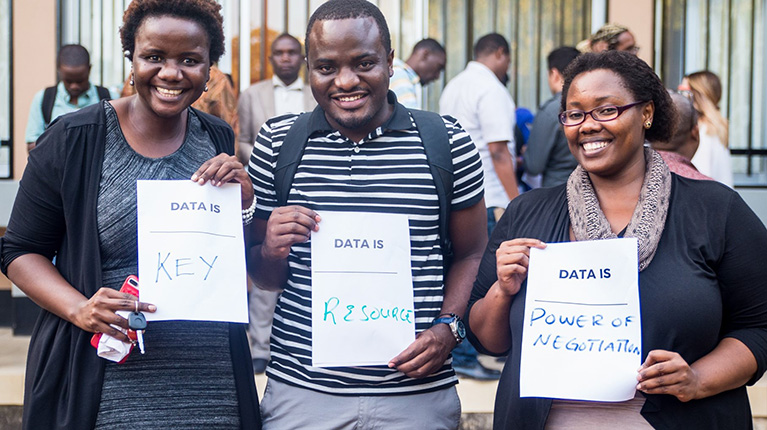 Dear Friends of IREX:
Data about the human condition do not paint a pretty picture right now. The total number of COVID-19  cases has topped 250 million globally and deaths have surpassed 5 million. In 2020 alone, the pandemic pushed 97 million more people into poverty. For more than 168 million children globally, schools closed for nearly a year, with the most vulnerable children suffering the most. Last year nearly 75 percent of the world's population lived in a country that faced democratic deterioration. Even before the COVID-19 pandemic, the world's 1.2 billion young people faced higher rates of unemployment than adults and the UN estimated that 600 million new jobs must be created to employ growing populations of young people.
These numbers show a deterioration in human dignity and well-being around the world. They expose real human suffering.
But data also point the way to solutions.
Data can increase accountability. Citizens must be able to measure and compare what is accomplished versus what is promised so we can hold leaders and institutions accountable for their performance.
Data can promote inclusion. To make societies more equitable and just, we must understand who is being served and how well, who is being left out, and who is being left behind.
Data can give people a voice. By capturing the attitudes and experiences of different communities, data can communicate powerful messages about social needs and enable institutions to better meet them.
Data can improve lives. Leveraging data can improve decision making and resource allocation, helping leaders and institutions to achieve better results for the people they are supposed to be serving, as articulated in IREX's new people-centered approach to strengthening institutions.
For all these reasons and more, IREX has been fulfilling the commitment we made in our IREX 2025 strategic plan to systematically use data and evidence as we contribute to building more just, prosperous, and inclusive societies worldwide.
We've done this through our exciting new strategic partnership with Development Gateway, which is now a subsidiary of IREX. We have also incorporated a greater focus on data and evidence across our programs, as the following examples show.
Strengthening

governance
The integration of data and evidence is a priority for the USAID-funded Comunitatea Mea program, which supports local government in Moldova to become more effective, transparent, and accountable to citizens. This year, over 60,000 citizens in five Comunitatea Mea partner communities gained greater, more equitable access to administrative services. Five Citizen Information and Service Centers (CISCs) established in partnership with local authorities, Slovak Aid, USAID, and the e-Gov Agency were launched in mid-December 2020, enabling more than 5,000 requests from citizens and businesses so far to be processed through the CISCs' one-stop-shop platform, with the average processing time dropping from 30 days to nine.
Bolstering independent journalism
The USAID-funded Strengthening Media System (SMS) program supports independent media in Serbia by improving the regulatory framework and market conditions, increasing media outlets' sustainability, and providing citizens with quality, unbiased information. This year, the program introduced a data collection system that focuses on data crucial for improvements to media outlets, such as revenue and audience numbers. This enables SMS and its partners to make better decisions about content and adapt to audience needs. On the revenue side, SMS uses data from partners to identify which revenue streams and business approaches are producing results. By switching to a data-driven approach, our partners have brought in over $775,000 in new revenues in the last three years and increased their audience size by an average of 30%.
Improving media literacy to combat disinformation
Rampant disinformation globally continues to endanger communities, weaken institutions, and threaten social cohesion, national security, and public health. Combatting these trends will depend on citizens who can navigate a polarized media and information landscape, recognize emotional manipulation, and identify falsehoods and conspiracies. To equip students with these skills, IREX's Learn to Discern in Education program in Ukraine regularly evaluates data to see where students are showing less improvement, and then adjusts parts of the curriculum that correspond to those skills. For example, initial analysis showed only moderate improvement (10%) in students' ability to differentiate facts vs opinions. After using data to target needed program improvements, students showed strong, statistically significant gains in this skill—up to 70% compared to before the training.
Strengthening higher education institutions
The University Administration Support Program, funded by the Carnegie Corporation of New York, invests in mid- and senior- leaders from universities across Africa and Eurasia. Fellows conduct a "Research Management 360" assessment (adapted from IREX's Higher Education Institutional Capacity Assessment Tool) to identify performance improvement priorities at their home institution and then use that data to create an Implementation Plan that meets the needs of their universities. Using this data-driven approach contributed to stronger implementation plans; subsequently 72% of fellows were able to successfully drive and institutionalize improvements at their university.
Shifting power dynamics that disadvantage youth
The USAID-funded Youth Excel program invests in youth and youth-serving organizations who are too-often marginalized by traditional power structures. Youth Excel trains them to use data and evidence to strengthen their own work and also to shape broader agendas and decisions that affect youth. Preliminary results are promising: youth are now leading local problem-solving efforts by connecting data to decision making, conducting quality research, and focusing on issues of gender, social inclusion, and ethics in their research methods. For example, in Guatemala, based on findings from their Intersectional Rapid Gender Analysis, young researchers are now advocating to policymakers for more disaggregated data about gender, disability, and indigenous peoples. In the Dominican Republic, The Biz Nation, a youth-led social enterprise and IREX partner, collected and used data to strengthen the effectiveness of their digital employability training program in real time to improve retention and training completion of underserved participants.
Diversifying leadership programs
This year, several of IREX's leadership development and exchange programs prioritized the use of data and data tools to diversify and extend access to leadership development programs. This included application dashboards in the online application system to provide real-time applicant data enabling the team to better monitor and set targets for recruitment among demographic groups that have historically been underrepresented, and an early needs assessment survey to tailor program activities to the desired skills and experiences of participants and ensure diverse participant voices were heard during the planning process.
Improving development outcomes 

 
IREX's Data Compass is a diagnostic tool that can map data flows in government agencies and provide insights for how to improve data collection and analysis systems. In Tanzania, the tool has been used as part of PEPFAR-MCC's Data Collaboratives for Local Impact (DCLI) efforts to sustain and amplify the role of local communities and sub-national institutions in using data use to improve development outcomes. IREX collaborated with Tanzania's Data Lab (dLab) to complete a data readiness assessment of 30 health facilities in the Kyela district of Tanzania, using the Data Compass tool to help the facilities become more autonomous and adaptable in their operations and better meet local needs. The Tanzania Data Lab is now working with the Tanzanian President's Office, regional and local governments to roll out trainings informed by this assessment to nearly 6,000 public health facilities across Tanzania.
In addition, IREX's subsidiary organization Development Gateway is:
Working with partners through the Visualizing Insights on Fertilizer for African Agriculture program to create dashboards and tools to improve, manage, and visualize fertilizer data in Africa. Sub-Saharan Africa (SSA) has the lowest fertilizer usage in the world – insufficient to replace soil nutrients lost every year to crop production;
Working with policymakers, governments, and civil society organizations in sub-Saharan Africa to use data to pass and monitor tobacco control legislation to reduce tobacco use through the Tobacco Control Data Initiative (TCDI);
Working on open contracting on the subnational level in Makueni County in Kenya, with demonstrated impact on cost effectiveness and quality of service delivery. The Makueni Open Contracting Portal is an interactive site built by Development Gateway (DG) that publishes and uses open, accessible, and timely information on government contracting to engage citizens and businesses and provide detailed information on each step of the tender, award, and contract implementation process at the county level. 
These are just a few examples of how IREX is leveraging data and evidence to promote more just, prosperous, and inclusive societies around the world. I hope they will also convey how serious we are about accelerating this area of focus. We believe fervently that data can be harnessed to improve people's lives and livelihoods, increase the effectiveness of public-serving institutions, and give a voice to those who are often disenfranchised, helping us to ensure a better world for everyone.
We look forward to your continued partnership and support.
With best wishes for a healthy, happy, and prosperous 2022,

Kristin M. Lord
President and CEO