IREX and partners launch project to increase economic opportunities in the West Bank and Gaza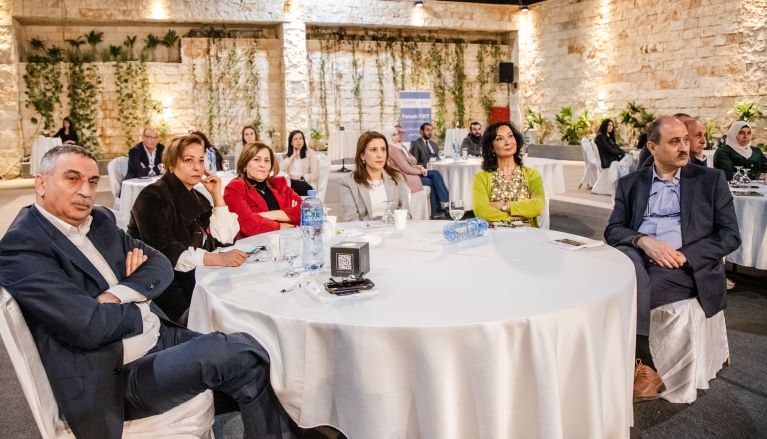 IREX and partners have launched the Forsah Technical and Vocational Education Training (Forsah TVET) Activity funded by USAID in Ramallah. More than 70 representatives from technical vocational education and training (TVET) institutions, the private sector, and TVET students in the West Bank and Gaza joined the celebration.
During the event, IREX highlighted the importance of building partnerships between technical and vocational education and training (TVET) institutions and the private sector to respond to employment needs and engage TVET youth in decision-making processes.  The event showcased the project's focus on providing women and underserved community members with access to equal opportunities.
"USAID is pleased to be expanding its support to the Palestinian people through the launch of this activity — which will support youth to develop marketable technical and vocational skills," said USAID mission director Amy Tohill-Stull. "In so doing, we will enable youth to reach their full potential by providing them with better opportunities for employment.  We are proud to partner with IREX on the implementation of this activity."
Other speakers at the event shared about opportunities for youth in the technical and vocational sector, as well as building TVET institutions that sustain green institutional initiatives and improve their ability to adapt to climate change. Through videos, TVET graduates from the West Bank and Gaza spoke about overcoming the challenges imposed by society and leveraging their TVET experiences. Attendees also emphasized the need for programs like Forsah TVET that support and mobilize TVET institutions to enhance capacities, empower youth-led awareness campaigns, and highlight TVET opportunities that lead to employment. 
The Forsah TVET Activity supports TVET institutions to better prepare Palestinian graduates for the labor market. The project will enhance TVET institution's capacity to respond to the needs of the private sector by creating partnerships between TVET institutions, private sector firms, and youth in specific sectors. At the same time, the project will increase enrollment in TVET programs, to supply skilled TVET graduates and create an enabling environment for sustainable supply-demand linkages and meaningful youth participation. For more information, please visit: www.irex.org/project/forsah-tvet  
The Forsah Technical and Vocational Education Training program is made possible by the generous support of the American people through the United States Agency for International Development (USAID). Forsah TVET is implemented by IREX in partnership with DAI, Virginia Polytechnic Institute and State University, Development Gateway, Business Women Forum Palestine, Bethlehem Chamber of Commerce and Industry, AnNajah, An-Najah Company for Consultancy and Technical Studies. The contents of this press release are the responsibility of IREX and do not necessarily reflect the views of USAID or the United States Government.