Investing in the next generation of young African leaders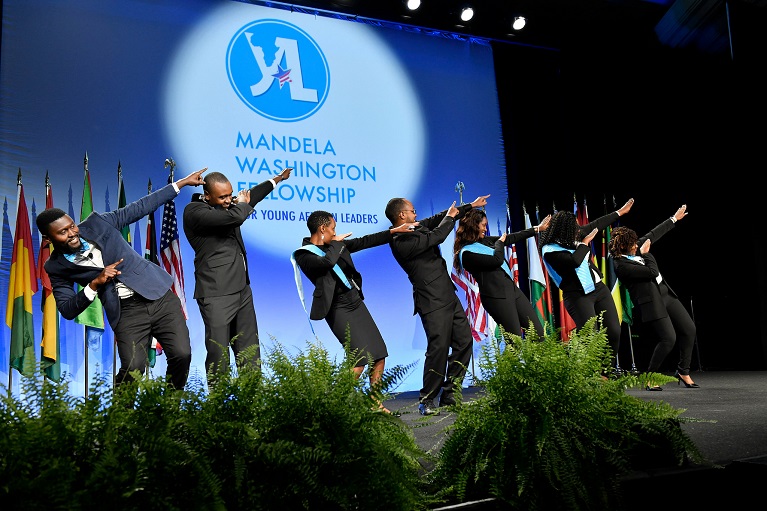 IREX is pleased to have been awarded continued funding from the U.S. government through the U.S. Department of State's Bureau of Educational and Cultural Affairs to administer the Mandela Washington Fellowship for Young African Leaders.
Since 2014, the Fellowship has brought 3,700 young African professionals from 49 countries across sub-Saharan Africa to the United States for executive leadership training and professional development. The Fellows, who are between the ages of 25 and 35, have established records of accomplishment in promoting innovation and positive impact in their organizations, institutions, communities, and countries.
The Fellowship is the flagship program of the Young African Leaders Initiative (YALI), launched in 2010. The Fellowship strengthens connections between the United States and Africa and supports young leaders as they spur economic growth, strengthen democratic governance, and enhance peace and security across Africa. Since its inception, the Fellowship has partnered with more than 450 institutions from the private, nonprofit, governmental, and multilateral sectors.
"IREX has been proud to partner with the U.S. Department of State to invest in young African leaders through the Mandela Washington Fellowship, and we are excited to continue in 2019," said IREX Vice President of Global Programs, Alicia Phillips-Mandaville. "With Africa's growing youth population, it is increasingly important to support the young leaders who are shaping the future of the continent."
In summer 2019, 700 Fellows will arrive in the United States for a six-week executive-style institute in one of three thematic tracks: Leadership in Business, Leadership in Civic Engagement, and Leadership in Public Management. Their Fellowship experience will conclude with a three-day Summit in Washington, D.C., where Fellows will connect with each other and American professionals. Fellows will also participate in alumni programming after they return home to further build their professional skills and networks.
After the Summit, 70 competitively-selected Fellows will remain in the United States for a four-week Professional Development Experience to contribute their skills to private, public, and nonprofit organizations across the country. Nearly 400 Fellows participated in the Professional Development Experience from 2014 to 2018 and contributed more than 125,000 hours of service to over 240 U.S. host organizations.
The Fellowship also provides support for Americans to travel to Africa to continue project-based collaboration with alumni through the Reciprocal Exchange component. Through these projects, more than 125 Americans and young African leaders have expanded markets and networks and increased mutual understanding between the United States and countries in sub-Saharan Africa since 2015.
The Mandela Washington Fellowship for Young Africa Leaders is sponsored by the U.S. Department of State with funding provided by the U.S. Government and administered by IREX. For more information about the Mandela Washington Fellowship, visit yali.state.gov/mwf.