MEPI Alumni of the Year Award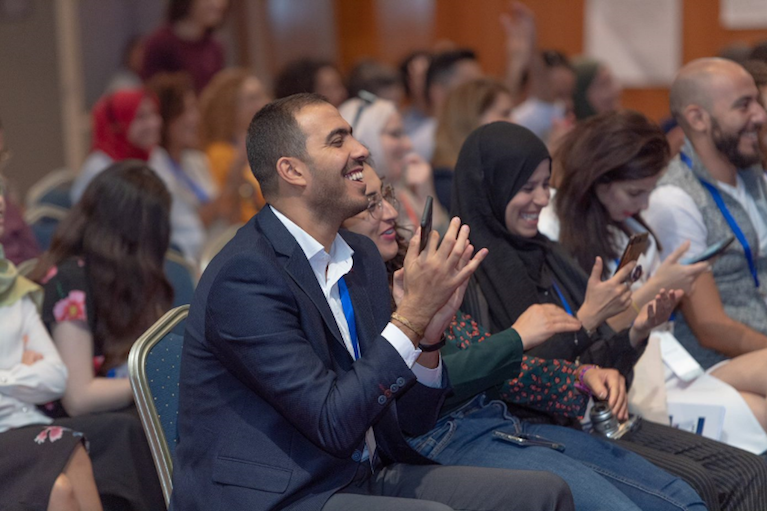 Celebrating Inspiring Leaders and Changemakers in the MENA Region 
To show appreciation for alumni of the U.S.- the Middle East Partnership Initiative (MEPI) who strive to give back to their communities across the Middle East and North Africa, the MEPI Alumni Connection is pleased to present the shortlisted nominees for the MEPI Alumni of the Year Award.
The award recognizes alumni for their leadership potential and dedication to community needs in their home countries to generate shared solutions to promote stability and prosperity in the region. The MEPI Alumni Connection program is sponsored by the U.S. Department of State with funding provided by the U.S. government and implemented by IREX.
First place
Asma Rouabhia, Social Entrepreneurship
MEPI Student Leaders Program, 2017
Tunisia
Asma is a 24 years - old MEPI Student Leaders alumna. She has a bachelor's degree in business administration. She is a young social entrepreneur and a trainer in entrepreneurship, community solutions, and leadership. Asma is Tunisia's 2019 laureate of Women in Africa award. She is an award-winning project leader with the Islamic Development Bank and a winner of Accelerate MENA Contest. Asma is a speaker in youth conferences, the founder of ProActive Youth, and an organizer of the first award Competition for young African leaders.   
"Little girls with dreams become women with vision." -Asma Rouabhia
Second place
Hussein Murad Ibrahim, Peace & Resilience
Leadership Development Fellowship, 2016
Iraq
Hussein Morad is a graduate of political sciences major. He works currently with the Italian Intersos NGO across 13 refugees' camps in Mosul, Iraq. He provides psychological care and education for those beneficiaries. He is also the president founder of the Houlan NGO which focuses on strengthening civic engagement. Murad has been vital in fighting early marriage, advocating for resilience and education in his country amidst the conflicts rising in Iraq. 
"Building schools, educating youth, and empowering displaced and trafficked women victims of violent extremist groups stem from my faith that education has the ultimate power to conquer and defeat violence and extremism." -Hussein Murad Ibrahim 
Third place
El Mahjoub Doua, 
Empowering People with Disabilities
Leadership Development Fellowship, 2017
Morocco
Mahjoub is a Moroccan MEPI Alumnus who holds a master's degree in Business Intelligence Expertise. He is a media specialist and director of TV programs and short films, a civic activist in the field of disability rights, and a local development advocate. Mahjoub received an accolade of awards and certificates in the field of media and cinema. He spends his time as a trainer specialized in strategic advocacy, rights of people with disabilities, information technology, and big data. 
"Being part of ARIPH for empowering and integrating people with disabilities, I am proud to be leading so many projects in terms of both design and implementation. I am always striving to making a change in my community." -El Mahjoub Doua
Honorable distinction (listed alphabetically)
Afaf Assass
SDGs Advocates, Algeria
Afaf is an Algerian youth activist and a Sustainability trainer. She is also an alumna from California State University Chico in Leadership and Civic Engagement studies. Afaf has great practical experience in civil society and has been involved in participatory approaches towards achieving the Sustainable Development Goals (SDGs). She is the founder of the Algerian "SDGs Advocates" foundation as well as the educational program "ICT4Sustainability. 
"We are all working to develop our communities; each one has his unique way, which makes me extremely proud to be shortlisted as MEPI alumni of the year among other brilliant profiles from our region." -Afaf Assas
Ahed Jamaoui
Pathaways Foundation, Tunisia
Ahed Jemaaoui is a trainer and consultant in the fields of communication, strategic planning, and political sciences. She is the President of "Pathways Foundation", which is an institution willing to achieve effective change and to undertake studies and research that would enable the community to evolve and change for the better. She participated in the organization and preparation of several electoral campaigns in Tunisia after 2011 and was part of the working group on the electoral campaign for Mr. Beji Caid Essibsi, the former late President of the Republic of Tunisia.
"Every MEPI Alumnus/alumna holds a never-ending inspiration to their peers and communities in the Arab World." -Ahed Jemaaoui
Chada El Islam Ben Mhacene
Tech Civic Engagement & Women Empowerment, Algeria
Chada El Islam is a Sr. product manager, youth activist, Tech enthusiast, and women advocate. Chada is the Stanford University Ambassador for Women in Data Science, having organized multiple tech conferences for women in that field in Dubai, UAE for the MENA region. She is also leading multiple voluntary women communities on a regional level, such as Arab Women in Computing, LeanIn Women in Tech Dubai, LeanIn Women in Energy Algeria, and Society of Petroleum Engineers (SPE) Women initiatives. In her role as a Board member of the international organization SPE,  two sections which are the Hassi Messoud professional section and the Ouargla's student chapter have won multiple international recognitions, the latest was the excellence award, which awarded to top 5 sections worldwide
"Today, tech is at the core of every advancement, and every improvement the human race could seek for their lives. I am on a mission to make both youth & women in the MENA region get the most out of this tech era." -Chada El Islam Benmahcene
Michel Daccache
The Leadership for Sustainable Development (LSD) NGO, Lebanon
Michel Daccache is a Lebanese political activist and president of The Leadership for Sustainable Development (LSD) NGO. He participated in several international conferences in many countries, tackling the challenges of Youth participation in their societies and contributed to several manuals' creation in this regard. Through his leadership career path, he won several international awards and in 2017 was awarded by MEPI for the Leaders for Democracy Fellowship Program in Washington DC. 
"There is no future without us (Youth)! We are the starting point for change and we should always keen for initiating that!" -Michel El Daccache
Mohamed Dhaouafi
Cure, Tunisia
Mohamed Dhaouafi is a MEPI Student Leaders Program 2016 alumnus and an Obama Leader Fellow 2019. He is the CEO & Founder of CURE, a startup that provides people with disabilities (amputees) with 3D printed and personalized bionic hands but also disruptive physical rehabilitation solutions. He is also the cofounder & COO of AGARUW, a fashion tech startup. Previously, he co-founded and managed ZETA HUB, the first private student incubator in his city. Mohamed holds an electronics engineering degree and a master's degree in management of NGOs.  
"This recognition will leverage our work for next steps by showcasing our impact in offering a second chance with people with disabilities." -Mohamed Dhaouafi
Omar Aassou
Association Jeunesse Tamdoult (AJTCD), Morocco
Omar Aassou is a 2012 MEPI Leaders for Democracy Fellowship alumnus in AUB, Beirut and a 2015 ACYPL Fellow.  He is a Civil Society activist who is working as the Executive Director of Association Jeunesse Tamdoult (AJTCD), Human Resources Officer in the Mediterranean Youth Climate Network (MYCN), and the Vice-Secretary of the Moroccan Youth Climate Movement (MYCM). Omar has participated in many national and international programs, conferences, and workshops; focusing on youth engagement, integration, and empowerment. 
"It's not about words, it's not about taking pictures or credits, it's about the impact your actions have on children, women, and young people from your community and your environment." -Omar Aassou
Omar Itani
FabricAID, Lebanon
Omar has truly embodied the entrepreneurial spirit since his teens. In high school, he launched his first business venture selling bracelets to schoolmates co-founded solid waste company at Visio. He won the US-Middle East Partnership Initiative (MEPI) scholarship to do a semester abroad at Georgetown University. As he was working towards his BA in business from Beirut Arab University, he simultaneously held jobs in sales at International Student Identity Card (ISIC) and a consultant with ARA Research and Consulting. FabricAID is his second company, launched in 2017 when he found there was a need for used clothing in Lebanon and realized he wanted to put his problem-solving skills to good use. Business savvy and social by nature, Omar has led growing FabricAID from an idea into a company with more than 23 employees within 2 years. 
"The purpose of our organization is to allow people to choose whatever they want with the price that they can afford in a dignified manner without feeling socially pressured. Thanks to this concept, we have moved from one employee company to 23 staff members." -Omar Itani
Salma Furasi
Water Project, Yemen
Social youth activist, member of the Yemeni Youth Leadership Network 2016-2017, representative of Yemen at Doha Youth Forum 2019, representative of Yemen at the Civil Education Conference 2018, program director at the Injaz Development Foundation. 
"I am working hard to provide clean water in Yemen by providing viable infrastructure and water source to counter diseases and  lack of potable water." -Salma Alfurasi
Snur Hamid
CSFF, Iraq
Snur is currently studying Japanese Language at Kyoto University, along with that, she is a founder of a consulting company, CSFF. She is the co-founder of Hackasuly, the first international hackathon in Iraq. She worked as an IT Engineer at Ooredoo Groups in Iraq, previously worked as a Microsoft Sales Specialist at a Microsoft Partner. In addition to her professional experiences, she volunteered in different local and international organizations and events.  
"Through MEPI, I learned the true meaning of leadership and that big changes are sourced from small or individual changes." -Snur Hamid