Intergenerational Solidarity: Inclusion, Protection, and Mental Well-Being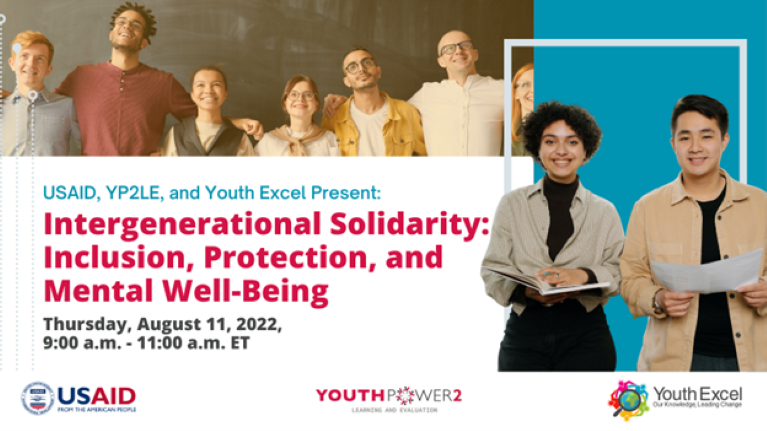 Join the United States Agency for International Development (USAID), YouthPower2: Learning and Evaluation (YP2LE), and Youth Excel on Thursday, August 11, 2022, from 9:00 a.m. - 11:00 a.m. Eastern Time to celebrate International Youth Day.
Date and Time: Thursday, August 11, 2022, 9:00 a.m. - 11:00 a.m. Eastern Time (ET) / 18:00 UTC
Platform: Zoom Meeting / Webinar
The event will follow key themes outlined by the UN surrounding intergenerational solidarity. Youth and adult speakers will highlight the importance of building strong foundations for international solidarity through inclusive safe spaces, supporting mental well-being, and addressing power differentials. During this event, we will also hear from young and seasoned professionals from all over the world, including remarks from USAID's Deputy Assistant Administrator, an intergenerational dialogue on inclusion, protection, and mental well-being; young professionals, and young leaders currently involved in USAID programming; and important announcements from Youth Excel and YP2LE. 
Join the event to:
Learn more about the updated USAID Youth in Development Policy.

Understand more about how to approach youth-adult power differentials, ageism, and accountability mechanisms.

Explore the importance of meaningful youth-led development/inclusion, mental health considerations, and fully inclusive/safe environments.