How integrated safety can mitigate risks in closing spaces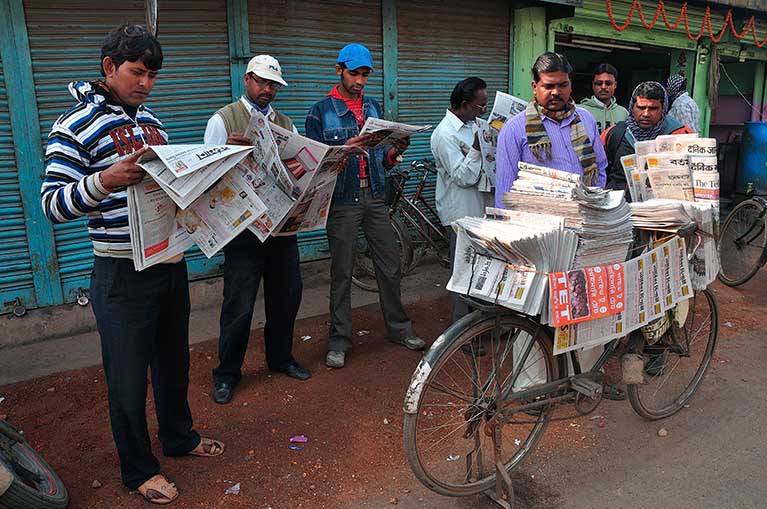 The space in which media practitioners and civil society leaders conduct their work is closing. And with it, the public's ability to access unbiased and independent sources of news coverage shrinks.
It is imperative that media practitioners and civil society leaders are equipped with the tools and strategies they need in order to resiliently continue their work and manage—as well as mitigate—the risks and threats they face daily. Integrated safety and media literacy can help.
What causes civic space to shrink?
Shrinking civic space can result from a variety of contexts. In some cases, media and civil society are restricted as extensions of political opposition, while in others, they are silenced in the name of security and fighting terror. Sometimes they are seen as manifestations of imported and foreign-funded ideas, and sometimes they are perceived as "fake news."
Both state and non-state actors have the ability to restrict media and civil society. These restrictions are occasionally clear, while other times they arbitrarily shift. The restrictions can take many forms, including but not limited to censorship and shutdowns, unwarranted legal requirements, bureaucratic hurdles, funding limitations, harassment, arrest, and intimidation. Though closing space is not a recent phenomenon, it is becoming a reality in an increasing number of countries.
To draw attention to this growing reality, the National Press Club Journalism Institute invited IREX's SAFE Initiative to participate in a panel on journalism suppression around the world. Panelists reported a troubled and dangerous time for journalists – in 2017, a record number of 262 journalists were imprisoned worldwide, while 82 were killed.
Data collected from our work with at-risk journalists and civic leaders through the SAFE Initiative supports the assertions from panelists: media practitioners around the world are experiencing high levels of threats to their safety and well-being due to their work.
The impact of closing spaces on the safety of journalists and civic leaders
Based on SAFE's data from 11 countries, 76% of journalists and civic leaders included in the survey reported that their work has caused them a security concern. Additionally, 58% of participants expressed that they experienced negative consequences due to their work in the past 12 months.
Of the respondents who faced security concerns, 54% cited being personally threatened because of their work. Other types of risks journalists and civic leaders face include being physically attacked, arrested or detained, fired, demoted or reprimanded at work, kidnapped, having their identity exposed against their wishes, their emails intercepted or data stolen, their website attacked, and their friends or family threatened.*
Growing restrictions and threats create an atmosphere of fear and intimidation, resulting in self-censorship by media and civic leaders. Journalists and civil society leaders regularly reshape or repurpose their coverage, work, and mission to avoid crossing boundaries instituted by state and non-state actors. One significant impact of this self-censorship is its effect on the type of information and the amount—or version—of truth the public receives.
Another impact is the marginalization of independent voices. Defamation and delegitimization by state and non-state actors contribute to marginalization, which can result in public distrust of media and civil society. Ultimately, media and civic leaders can lose their influence and ability to affect major discussions, big-picture issues, and policy.
In the digital world, the actions which media and civic leaders engage in and the information they share online leaves a footprint that can put them at risk on both a physical and psychosocial level. Furthermore, if journalists feel psychosocially weak from burnout or the overwhelming nature of their profession, they might make decisions that put them at risk as they operate in closing spaces.
On an individual level—and often the least addressed—is the psychosocial impact of closing spaces on journalists and civic leaders. Based on SAFE's data, stress is one of the top five perceived threats among journalists and human rights defenders. Stress does not end at the psychosocial level and easily affects an individual's safety in other domains. For example, if psychosocial pressure is consuming a journalist's resources, they may pay less time and attention to planning and situational awareness before and during their coverage in the field – a lack of which can result in putting the journalist, their colleagues, and their outlet at risk physically.
How integrated safety training and media literacy can confront closing spaces
SAFE's strategy addresses closing spaces by providing media practitioners and civic leaders with knowledge and skills in integrated safety. This integration occurs through approaching safety from a holistic lens of digital safety, physical safety, and psychosocial well-being.
Here are three main areas that SAFE emphasizes in its holistic trainings:  
1. Cultivate awareness of the risks to digital, physical, and psychosocial safety.
Even media practitioners and civic leaders who face constant risks can become desensitized to or dismissive of the risks to their safety. Often, by intentionally ignoring the risks, they think they will evade the consequences. Additionally, some could be aware of risks in one domain without seeing the effects of hazardous behavior on safety in different domains. For this reason, awareness is key. 
2. Learn the knowledge and skills to mitigate risks.
SAFE's focus goes beyond knowledge and skills transfer to include behavioral change. One factor that contributes to behavioral change is ensuring that trainings are relevant. This can be achieved through monitoring of the training context, conducting needs assessments that result in tailored training approaches, and creating a learner-centered, inclusive, and actionable experience. As a program with a track record of successful operations in five regions around the globe, SAFE has learned the importance of trainings that are provided by local individuals who understand the intricacies of each context. SAFE also promotes a proactive approach to risk mitigation in order to provide individuals with a toolbox that empowers them to take charge of their safety.
3. Ensure the proper support networks are in place.
SAFE encourages solidarity among journalists and civic leaders—not just as a means they can refer to for knowledge sharing, exchange of best practices, and support in times of need—but as a proactive measure that empowers them psychosocially.
Beyond investing in the safety of media practitioners and civic leaders, IREX tackles the issue of closing spaces by investing in citizens' media literacy. In Ukraine, highly sophisticated disinformation campaigns disrupt citizens' ability to identify fact from fiction in media. To counter this, IREX empowers trainers to teach citizens modern media literacy skills through the Learn to Discern approach. The goal of the approach is not only to enable the public to identify disinformation, but also to help them demand higher quality information.
IREX is now piloting the approach in the United States with local communities and journalists. The program's implementation in Ukraine was not only successful in enhancing citizens' capacity to discern the reliability of news sources and their content, but it also increased citizens' ability to identify emotional manipulation and disengage from it.
Through continued initiatives that support free expression and media literacy such as SAFE and Learn to Discern, discussions like the National Press Club's panel, and efforts from local organizations and individuals, media and civil society practitioners can better navigate closing spaces and provide citizens access to more accurate, quality information around the world.
*This data covers the period from November 2016 to January 2018. It is important to note that all 11 countries are not represented equally in the data, and that tests for statistical significance have not been performed. Additionally, as the SAFE training targets at-risk individuals, the data is not a representative sample of all journalists and civic leaders in the regions.