Digital Surveillance and Censorship in Eurasia in the Age of COVID-19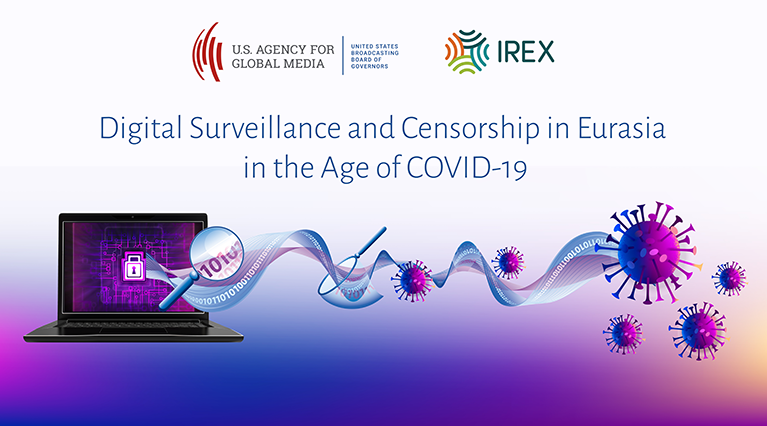 Join the U.S. Agency for Global Media and IREX for an online panel discussion on digital surveillance, censorship, and COVID-19.
May 28, 2020
9 a.m.–10 a.m. EST
As governments began to  enact  emergency measures to counteract the spread of COVID-19, many have turned to digital surveillance and censorship of media as a response to the pandemic. New government actions have been the cause of a growing concern over privacy and digital rights. Civil society organizations such as Amnesty International and Digital Rights Watch are warning of the potential threat of adopting invasive digital surveillance in a time of crisis as well as the longevity of invasive measures. At the same time, global health experts are lauding the use of technology in contact tracing and monitoring of those who fall ill as an effective response to the global crisis.
On this panel, Peter Roudik, Director of Legal Library at the Library of Congress, Jamie Fly, RFE/RL President and CEO, Konstantin Eggert, columnist at Deutshe Welle and Former Editor-in-Chief of BBC Russian Service, and Franak Viachorka, Digital Media Strategist at USAGM, will discuss  the  impact of a  global increase in digital surveillance, media censorship  and the boundary  between public health benefits and privacy risks  in Eurasia. Joan Mower, Director of development and training at the U.S. Agency for Global Media, will moderate the discussion.
We hope you can join this important discussion.
Speaker bios
Jamie Fly
Jamie Fly was appointed Radio Free Europe/Radio Liberty president and chief executive officer by the RFE/RL board of directors in August 2019. Prior to his appointment, Fly served as a senior fellow, codirector of the Alliance for Securing Democracy, and director of the Future of Geopolitics and Asia programs at the German Marshall Fund of the United States. He served as counselor for foreign and national security affairs to Senator Marco Rubio from 2013 to 2017, serving as his foreign policy advisor during his presidential campaign.
Prior to joining Senator Rubio's staff, he served as the executive director of the Foreign Policy Initiative from its founding in early 2009. Before that, Fly served in the Bush administration at the National Security Council (2008–2009) and in the Office of the Secretary of Defense (2005–2008).
His articles and reviews have been published in a wide variety of outlets in the United States and Europe. For his work in the Department of Defense, he was awarded the Office of the Secretary of Defense Medal for Exceptional Public Service. Fly received a BA in international studies and political science from American University and an MA in German and European studies from Georgetown University.
Peter L. Roudik
Peter L. Roudik is director of legal research at the Law Library of Congress, where he coordinates research on all issues of U.S., foreign, comparative, and international law for Congress and other branches of government. He also continues to provide research on the laws of Russia and other former Soviet republics.
Before joining the Law Library, Roudik worked as a research scholar at the University of Chicago Law School, served as a legal advisor to the Russian Parliament, and taught law at the Moscow Institute of Technology. He holds an MA in strategic studies from the U.S. Naval War College, a JSD from the Institute of State and Law of the Russian Academy of Science, and a joint degree in history and law from the State University of Moscow. 
Roudik is a member of the DC Bar Association. He served at the U.S. Department of State ad hoc Committee on Religious Freedom and was a member of the U.S. Board on Geographic Names.  He has also been a guest lecturer at Howard and Tufts Universities and participated in exchange programs at the University of Toronto and Capital University of Ohio. He has been featured at various professional conferences, and his articles on legal developments in the countries of his jurisdiction have been published in legal periodicals in the U.S. and abroad.
Konstantin Eggert
Konstantin Eggert is a Russian journalist and political commentator, currently a columnist at Deutsche Welle. He served as the former deputy editor, then editor-in-chief for Kommersant FM radio in Moscow and is now a consultant dealing with communications, reputation management, and political risks for major investors in Russia and the Commonwealth of Independent States.
He is the former vice president for public and government affairs for ExxonMobil Russia Inc., where he was in charge of relations with the Russian government, communications, political and economic analysis, and charity projects.
Franak Viačorka
Franak Viačorka is vice president of the Digital Communication Network. He concurrently is a digital media strategist at the U.S. Agency for Global Media, and creative director of Radio Free Europe/Radio Liberty, Belarus service.
He is an organizer and mentor of LaunchMe Media Accelerator, aiming to build collaboration between the media and IT in Eastern Europe. He is a well-known expert on Russian disinformation. He has served as a consultant for the U.S. Department of Defense, Freedom House, and the Broadcasting Board of Governors. He also coordinated the Digital Communication Network project on mapping digital influencers in Eurasia.
Viačorka graduated from American University in Washington, DC, and Warsaw University in Poland. He also studied at Georgetown University and the College of Europe and European Humanities University.
Joan Mower
Joan Mower is the director of development and training for the U.S. Agency for Global Media (USAGM). Joan is managing and directing a staff dedicated to training journalists and enhancing U.S. broadcasting projects around the world. She has also worked as the head of public relations for the Voice of America (VOA).
A former Foreign Service officer, Joan handled press relations for the Office of Sudan Programs at the Department of State. Prior to working with VOA, Joan directed the Africa and Latin America programs at the Freedom Forum/Newseum, one of the world's largest communications foundations. She was a journalist for the Associated Press where she covered foreign affairs, specializing in Africa, and worked as an investigative reporter. She also worked for United Press International.
Joan is a graduate of the University of California – Berkley and holds an MA in African studies from Johns Hopkins University where she is now an adjunct professor.