Confronting Disinformation in Asia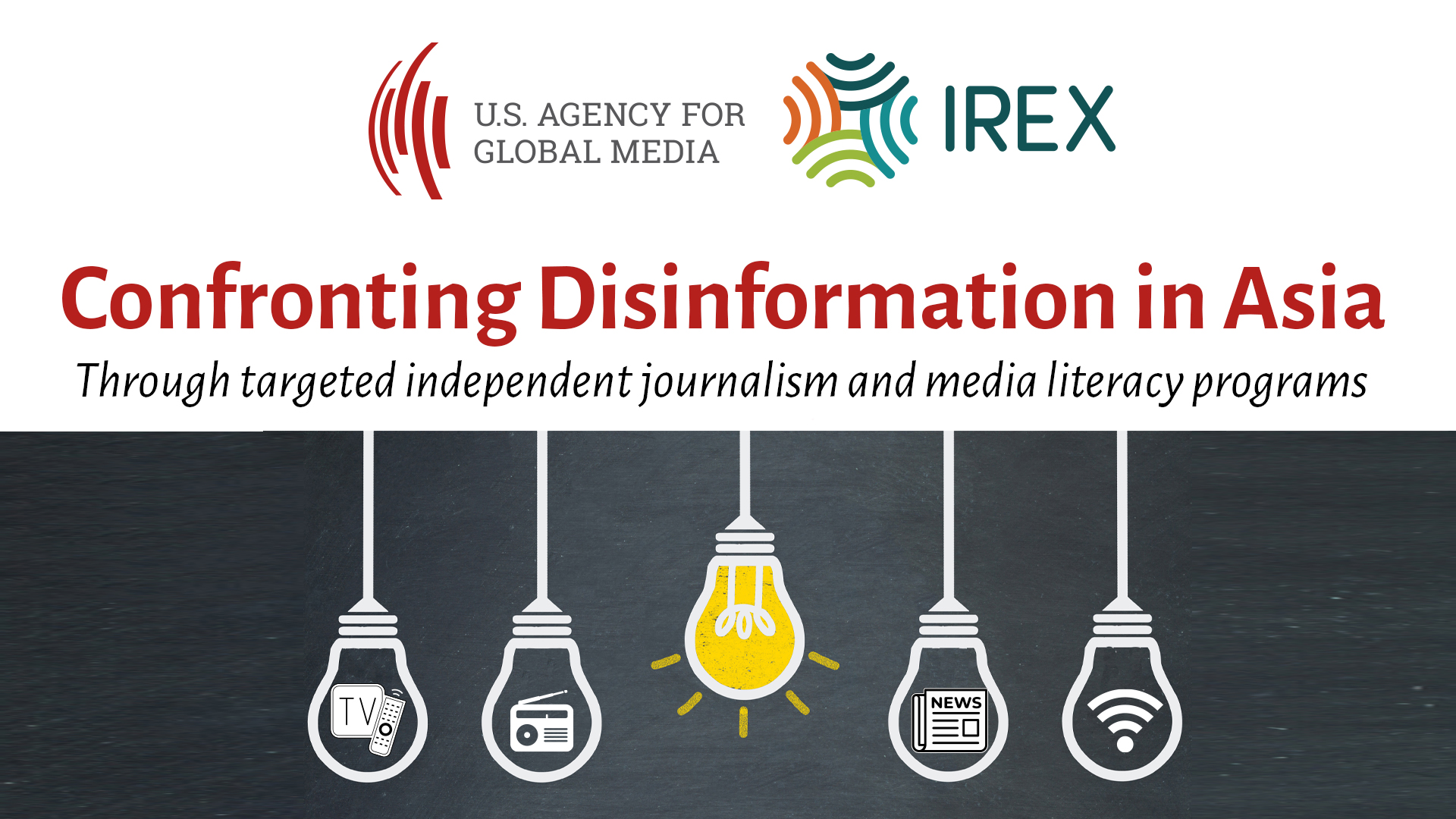 USAGM and IREX organized  an expert panel to discuss the spread of disinformation in a number of Asian countries in 2021 and possible ways to address the problem.
Panel Discussion - October 19, 8 a.m. EDT
Moderator: 
Ade Astuti Kidwell

, Chief, Voice of America Indonesian Service
Panelists:    
Jean MacKenzie, Chief of Party, Media Empowerment for a Democratic Sri Lanka (MEND), IREX

Than Lwin Htun, Service Chief, Voice of America Burmese

Xin Chen, Supervisory Managing Editor, Voice of America Mandarin Service

Rohit Mahajan, Vice President of Communications, Radio Free Asia

Kate Beddall, Managing Editor, Radio Free Asia-affiliate BenarNews
Disinformation and propaganda are spreading like wildfire all across the globe. Asian countries are not immune to manipulation, which can all too often lead to violence.  According to the Freedom House report, The Rise of Digital Authoritarianism: "… false claims and hateful propaganda helped to incite jarring outbreaks of violence against ethnic and religious minorities in Myanmar, Sri Lanka, India, and Bangladesh. One of the steepest declines in internet freedom occurred in Sri Lanka, where authorities shut down social media platforms after rumors and disinformation sparked vigilante violence that predominantly targeted the Muslim minority"
Since the coup in February, Myanmar's military junta has shut down all mainstream private news organizations, pushing media outlets underground and fueling misinformation on social media.
China's global disinformation campaign is massive and sophisticated, part of a broad influence strategy to sow and amplify chaos, discredit critics, and sabotage democratic processes. Twitter has taken down tens of thousands of accounts associated with the Chinese government as has Facebook. A 2021 global survey by the International Federation of Journalists found that China's influence on global journalism unions and individuals has wide-ranging impact on the world's media ecosystem. 
A social media campaign in Sri Lanka promising a cure for COVID caused thousands to flock to a remote village in search of the fabled elixir, while false information about the dangers of burying pandemic victims led to forced cremations that unfairly targeted the Muslim community.
Growing numbers of audiences tune in to USAGM's Voice of America and Radio Free Asia and their affiliates' broadcasts or web sites for the verifiable information. IREX as well as VOA and RFA journalists and communicators will discuss the disinformation landscape in Asia and various ways in which the journalists work to help citizens recognize disinformation, while encouraging healthy media consumption.